Denver Reunion: "Best Ever"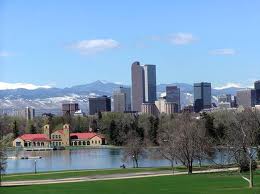 by Sarah Rambeau, Suellen Ehrmann, Mike Harris, Vern Nelson, Gordon Koblitz, and Don Marske
Nostalgia filled the atmosphere as nearly 100 CH2M HILL retirees, emeritus members, spouses, and guests gathered for the 2013 Retiree & Emeritus Retreat. Attendees enjoyed four busy days of renewing acquaintances with colleagues and friends, partaking in interesting recreational outings, attending informational programs and enjoying the beautiful autumn Rocky Mountain climate.
Highlights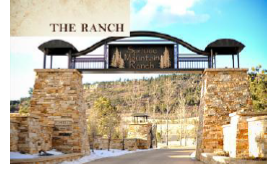 On Tuesday morning, those who braved the early morning hour boarded the bus for a tour of the Spruce Mountain Cattle Ranch. In 1871, the land now recognized as Spruce Mountain Ranch was once a section of terrain on the "Ben Lomand Ranch which consisted of thousands of acres. Besides being a successful dairy operation, the land was cultivated for oats, millet and hay. Since then, the Ranch has changed hands numerous times. Today, Tom and Lois Ames have allocated 100 acres to a housing development "Spruce Mountain Estates."
The remaining acreage was creatively and uniquely renovated by Tom and Lois. Their ultimate goals are to sustain a purebred Angus seed stock operation, as well as create a distinct landscape and resort-like atmosphere for family, guests, and potential customers to enjoy.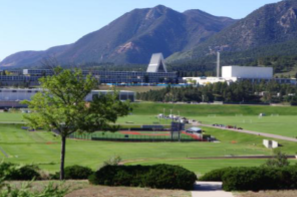 On Wednesday morning, many boarded the early bus again for a tour of the Air Force Academy. The Air Force Academy is unique in its dual role as both an Air Force installation and a university. The 10th Air Base Wing provides logistical, medical, fire response, security, civil engineering, family care, and medical support across the 18,000-acre installation for a community of approximately 25,000.
CH2M HILL has served as operations manager of the U.S. Air Force Academy for a number of years. Our staff there manage all of the facilities and on-campus equipment. We were treated to see our staff running the Zamboni machine at the Academy ice hockey rink. Our tour of the USAF Academy was led by Dave Brewer, our current manager of the operations contract.
On the way back to the hotel, we drove through the Garden of the Gods, a spectacular red rock canyon park located just outside of Colorado Springs.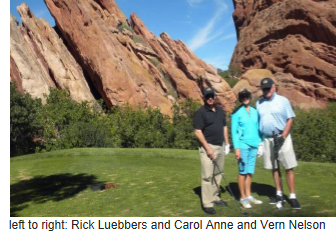 In 1871, General William Jackson Palmer founded Colorado Springs while extending the lines of his Denver and Rio Grande Railroad. In 1879, General Palmer repeatedly urged his friend, Charles Elliott Perkins, the head of the Burlington Railroad, to establish a home in the Garden of the Gods and to build his railroad from Chicago to Colorado Springs. Although the Burlington never reached Colorado Springs directly, Perkins did purchase 240 acres in the Garden of the Gods for a summer home in 1879. He later added to the property but never built on it, preferring to leave his wonderland in its natural state for the enjoyment of the public. Perkins died in 1907 before he made arrangements for the land to become a public park, although it had been open to the public for years. In 1909, Perkins' children, knowing their father's feeling for the Garden of the Gods, conveyed his 480 acres to the City of Colorado Springs. It would be known forever as the Garden of the Gods "where it shall remain free to the public, where no intoxicating liquors shall be manufactured, sold, or dispensed, where no building or structure shall be erected except those necessary to properly care for, protect, and maintain the area as a public park." Can you spot the climber on the rock wall? While most of us were touring on Wednesday, a group of diehard golfers were enjoying an outing at the beautiful Arrowhead Golf Club in Littleton, CO. It was just as billed: a spectacular experience in the red rock area south of Denver with a "40 year old club that was 320 million years in the making." After a somewhat breezy morning start to the round, seven players were challenged by a number of stunning elevations and undulations; but, most of all, concentrating on golf while enjoying the breathtaking surroundings. A good time was had by all including Cliff Thompson, Mike Doleac, Harry Reeder, Dan Sterley, Rick Luebbers, Carol Anne, and Vern Nelson.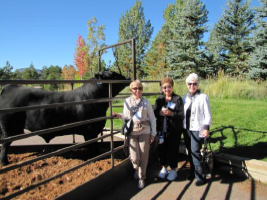 Patti Wiedemann, Joan Marske, Babs Suhr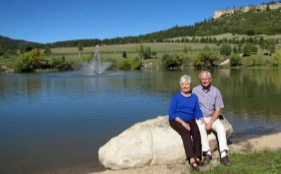 Sharon and Mike Anglea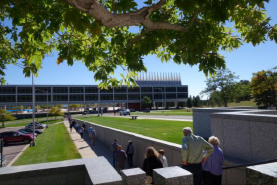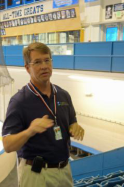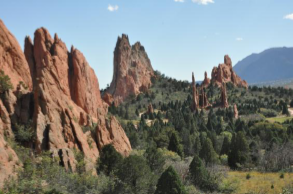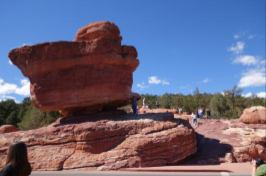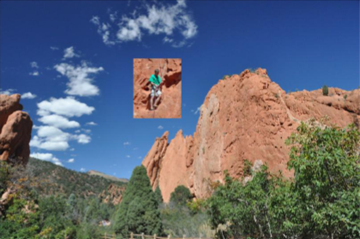 The Reunion planning committee organized technical sessions, inviting 15 current CH2M HILL project leaders to speak about assorted projects and innovations across the firm's markets.
On Tuesday evening, we had dinner at the DEN campus and, were entertained by presentations from Terry Ruhl on our management of the Mumbai Airport expansion, Ellen Sandburg on the growing mission of the CH2M HILL Foundation, and Jacque Hinman on the current status of our International Operations and projects. Included in Jacque's presentation was a briefing on the work CH2M HILL completed for the London Olympics.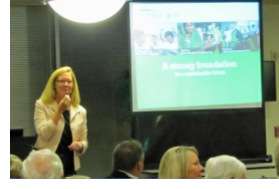 On Wednesday afternoon, Reunion attendees enjoyed a series of technical presentations on many of the most challenging projects being managed by CH2M HILL. Several of these projects have been recognized by our CEO as being the best projects in the firm. The attached table summarizes the speakers and topics for these presentations. The Retreat committee thanks the operating divisions of the firm for the much appreciated presentations. Most of the PowerPoint presentations can be viewed as indicated on the following table.
The committee also planned retirement-specific sessions to review health insurance questions and financial concerns and to discuss the overall well-being of retirees.
Retiree Benefits Session
Erik Ammidown updated the attendees on the firm's current emeritus and retiree benefits including health insurance, 401(k) rollover options (and rules), and more. Don Marske also presented alternatives to the firm's secondary health insurance plan (CIGNA) for Medicare-eligible retirees. Read More… (PDF) The presentations confirmed the very fluid nature and complexity of our current health care system.
Financial Planning Session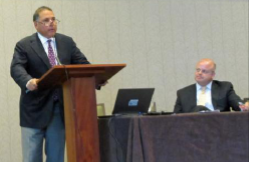 This workshop session addressed commonly asked questions about "How to Build a Bulletproof Financial Plan." We learned things such as: What's the right investment strategy for me? Can I "front load" my retirement expenses during early retirement to assume less when I'm older during later retirement? The session was presented by Mark Brown of Brown & Tedstrom, Inc., Denver. Mark has been working with several CH2M HILL retirees since 1984 and is very familiar with the firm and the evolution of its compensation plans.
Making the Most of Retirement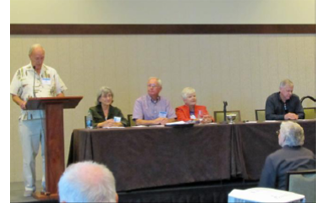 Les Wierson moderated a panel of Myrna Wierson, Mike and Sharon Anglea, and Rick Luebbers to share their experiences in retirement. The audience jumped in with their stories, and we learned that our colleagues and their spouses are heavily involved in a wide variety of activities including a heavy dose of volunteerism.
In the evenings, we enjoyed receptions and nice dinners, laughed with old friends, and reminisced with honored guests.
Thanks to the efforts of Babs Suhr and Dave Evans, several spouses were able to attend. In addition to Babs Suhr, Ann Merryfield, Bette Petersen, Raeda Poirot, Sheila Coon, and Jodi Reynolds also attended.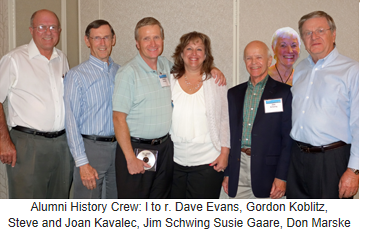 We also recognized the huge contribution that Steve Kavalec makes to our Alumni History website. Steve is our volunteer webmaster. Without his efforts, the website would simply not exist. We were pleased that he and his wife Joan were able to join us for the Monday night reception. If you haven't yet visited the site, we invite you to browse http://www.history.ch2m.com/ to see not only his efforts, but the the contributions of the entire crew pictured here.
For the first time we also honored retirees who passed since the last reunion with an In Memoriam slideshow that was running during the Tuesday night reception and Wednesday night dinner at the Denver Campus. See Video… (Large file, may take a few minutes to open)
Following are photos of the attendees enjoying the receptions.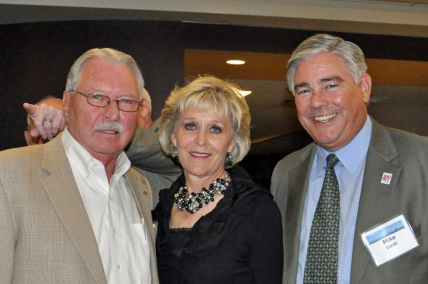 Vern & Carol Anne Nelson & Mike Lucki, CFO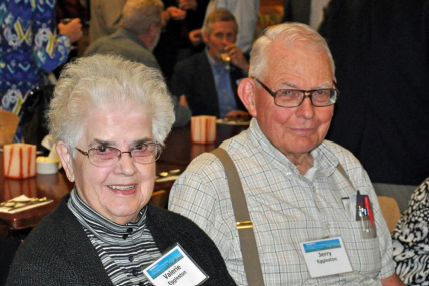 Valerie & Jerry Eggleston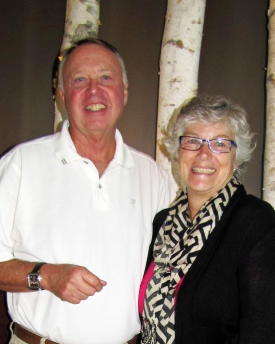 Steve & Carol Aasheim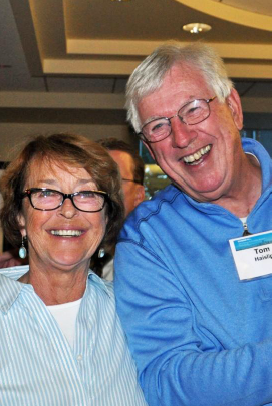 Starla & Tom Haslip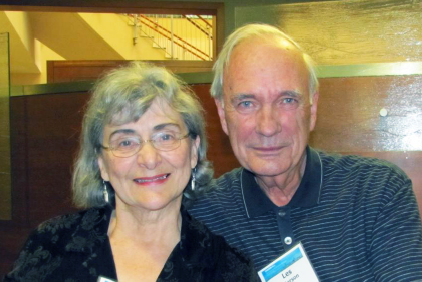 Myrna & Les Wierson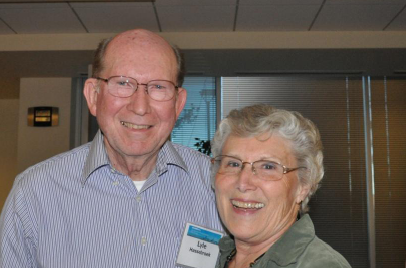 Lyle & June Ann Hassebroek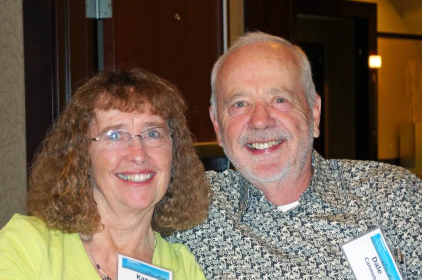 Karen & Dale Cannon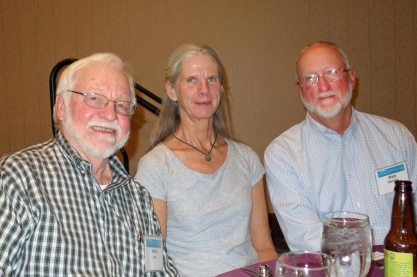 John Lee & Alison & Dan Sterley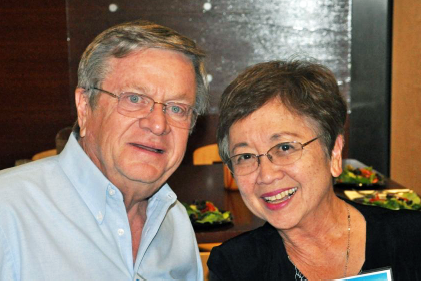 Don & Joan Marske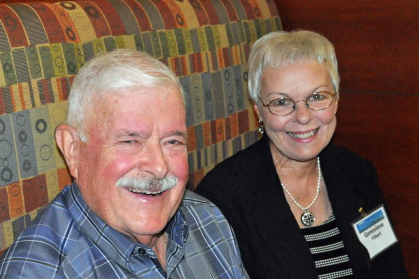 John & Genevieve Filbert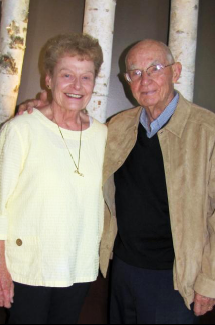 Judy & Sid Lasswell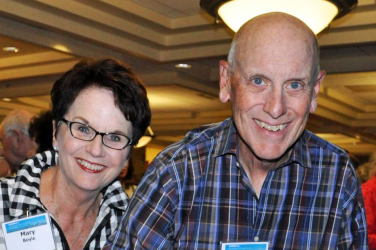 Mary & Jerry Boyle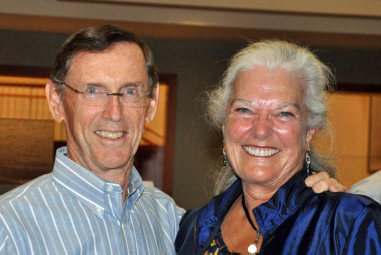 Gordon & Mary Koblitz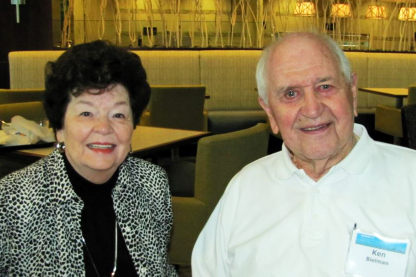 Julie & Ken Bielman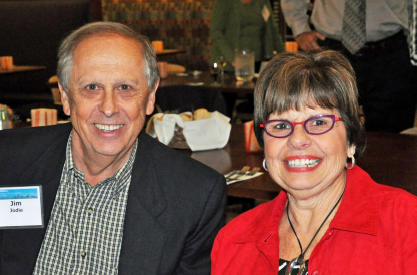 Jim & Angie Jodie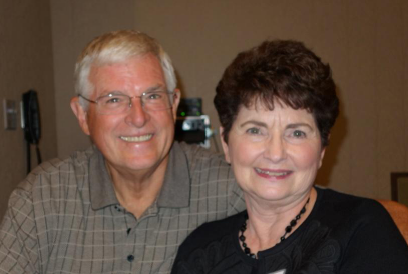 Bob & Meredith Chapman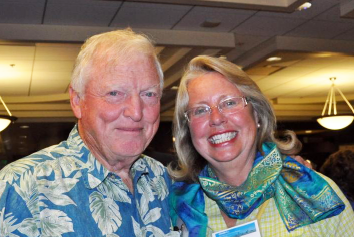 Arlen & Elaine Borgen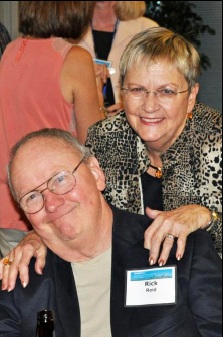 Rick & Mary Reid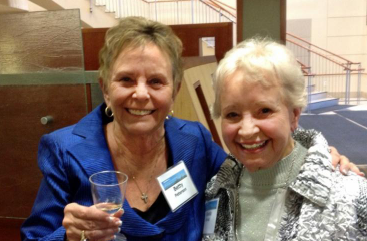 Betty Peterson & Raeda Poirot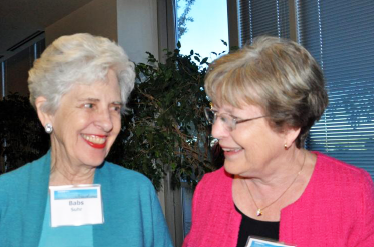 Babs Suhr and Carol Irving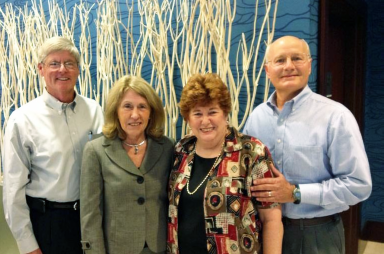 Dave & Ruth Ellison & Marge & Mike Mynhier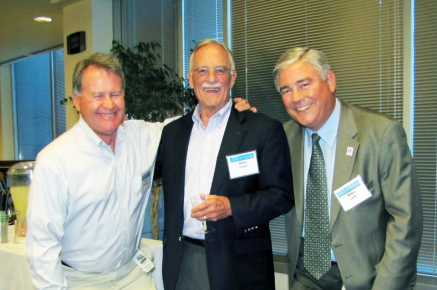 Sam Iapalluci, Mike Fisher, & Mike Lucki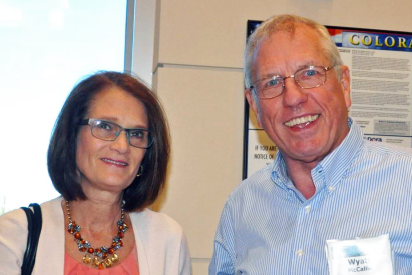 Joan & Wyatt McCallie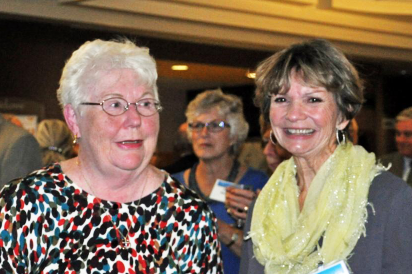 Sheila Coon & Jodi Reynolds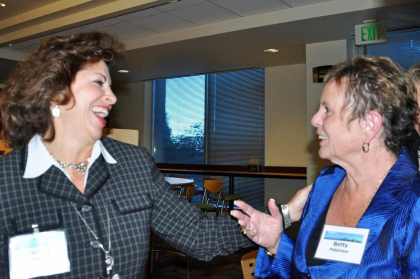 Jacque Hinman & Betty Peterson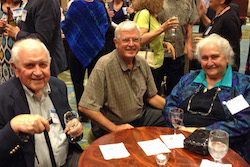 But the most impactful connections were made during the evening reception and dinner events when everyone was focused on the history and beginnings of CH2M HILL and how the company has evolved. Watch the Sid and Harlan Video.
Employees who were interviewed by one of the four founders and spent their whole careers developing and expanding the firm shared stories of small staff sizes, challenges of opening an office in a new location, and developing projects across the world. A highlight was when employee 11, Sid Lasswell, gave a comical presentation with Harlan Moyer, giving first-hand insight into our rich history.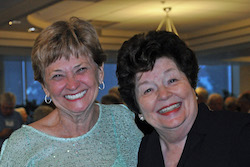 Planning Committee Chair Mike Kennedy spoke highly of the Reunion. "The 2013 Reunion provided a great opportunity to renew old friendships and relive fond memories of the earlier days of the firm. We were blessed to have Jacque Hinman join us both Monday and Tuesday evenings, and Jacque's presentation of the current state of affairs for CH2M HILL and the plans for the future was the hit of the reunion. The attendees rated this reunion as 'one of the best ever!'"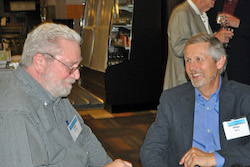 The last day of the Reunion began with breakfast where Mike Kennedy hosted a wrap-up that included an evaluation of the reunion. The major suggestion that came out for 2015 was to rename the event a Reunion. Nancy Tuor has agreed to Chair the Planning Committee for the 2015 Reunion, and Mike Jury has agreed to replace Mike Harris as the Program Chair. Our thanks also go out to the new and returning volunteers who agreed to help with the 2015 Retiree Reunion: Mike Harris, Les and Myrna Wierson, Gordon Koblitz, Don Marske, Bob Chapman, Arlen Borgen, Mike Anglea, Ken Williams, Vern and Carol Nelson, Mike Kennedy, and Pat Klampe. Anyone else interested in helping out, please get in touch with Nancy Tuor at ntuor.moore@gmail.com or alumnirelations@ch2m.com. Planning has already started for the 2015 Reunion; don't miss it!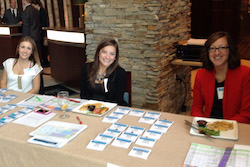 The biannual reunion in Denver was an event to remember! A BIG thanks goes out to everyone who helped make it happen – it was truly a cooperative effort that could not have happened without everyone's effort and input. On behalf of the Planning Committee, we want to especially thank the firm's Event Planners for their indispensable assistance.
A big shout out goes to Emily Walker, Cari Strouse, and pictured here from left to right, Gina Aiello, Kyle McKinney, and Sarah Rambeau. And, thanks to the folks who shared their photos and memories for this feature… Judy Lasswell, Mary and Gordon Koblitz, Jerry Boyle, and Don Marske.