The origin of our Alumni Association goes back to the mid-1980s when Jim Howland and Bob Pailthorp created the Alumni History project. They jointly created about 28 typewritten pages of material that provided the initial outline and structure upon which others then added their own memories, thoughts, and impressions of their time with the firm.
Since then, the "committee" of Jim and Bob was joined and succeeded by several other retirees who volunteered their time and effort to build upon the Alumni History project. Today, it now resides on this website containing over 1,100 pages. It is, without a doubt, an unparalleled chronicle of the history of CH2M HILL. You can read more about the history of this project, and the alumni behind it, on the cover page of the History tab.
Throughout the years, the history project received modest in-kind and financial support from the firm. With the transition to Jacobs, that support was lost. Faced with the prospect of abandoning over 30 years of work on the project, the history committee conducted a straw poll of selected retirees on the prospect of founding an alumni association where members would subscribe to a modest dues schedule to support the history project. Receiving a positive response, the committee moved ahead and on April 5, 2018, the CH2M HILL Alumni Association Inc was incorporated as a non-profit corporation.
As stated in the Articles of Incorporation, the purpose of the Association is to preserve and maintain the relationships and friendships built during our association with CH2M HILL. Activities include maintaining a roster of CH2M HILL alumni, publishing periodic newsletters, convening periodic reunions, and maintaining and building the Alumni History of CH2M HILL website.
Clearly, the scope of the Association is now beyond that of just the history project. To help us guide and grow the Association, we have assembled an outstanding leadership team.
Meet your Board of Directors and Officers
Jory Abrams, Director
Born in Corvallis, Oregon, in 1950, Jory attended Oregon State University (1968-1970) and Portland State University where she received a B.S. Degree in Structural Engineering (1979), graduating with High Honors. Jory joined CH2M HILL in Portland as an intern in 1976. Jory served the Transportation Business Group with management positions of progressing levels of responsibility. In her last position as Regional Business Group Manager (2001-2006), she was proud to lead the Northwest Transportation (NWT) through the transition from traditional design to fully integrated design-build. During those 5 years, NWT grew from about 150 staff to 230+, with total revenues growing from $40M to $93M, while maintaining profitability. "It was a thrilling, challenging ride."
Mark Alpert, Director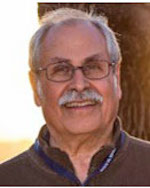 Mark is currently president of Integrated Delivery Solutions. The firm works on major infrastructure projects in the United States with a focus on business strategy and management, project financing and new business acquisition with engineering and construction firms. In 2014, after a 40+ year career, Mark retired as a senior vice president with CH2M Hill's water business where he had responsibilities for its design-build unit operating throughout North America.
Jerry Boyle, Director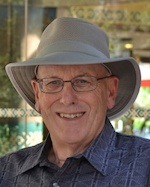 Born in Oakland, California, in 1941, Jerry attended the University of Washington from 1959 to 1965 where he earned his B.S. and M.S. in Civil Engineering.  Jerry joined CH2M in the SEA office in 1965 as employee #133.  In 1967, he transferred to CVO and began work in Sid Lasswell's group. Jerry was a project manager for many wastewater treatment plant design projects in Oregon and Colorado.
In the mid1970s, he became the Vice President and Discipline Group Director for Wastewater.  He moved to San Diego in early 1979 to work with Jim Howland as the project manager on the Point Loma wastewater treatment plant design project.  In 1980, he moved to Newport Beach, California, to become Senior Vice President and Southern California Regional Manager.  When the firm reengineered, Jerry became the Southwest Regional Business Group Manager for Water and Wastewater.  He traveled internationally to provide senior review and oversight to major projects and joint ventures in New Zealand, Australia, Israel, and Jamaica. 
After 38 years as a fulltime employee, Jerry retired to pursue his many other activities of international travel, art, photography, all things Apple, and reading history books. 
Bob Chapman, Director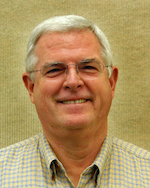 Born in Portland, Oregon, in 1943, Bob attended Oregon State University earning his B.S. and M.S. Degrees in Civil Engineering in 1966. Bob joined the firm in September 1966, reporting for his first assignment in South Lake Tahoe to work with Russ Culp on the South Lake Tahoe Public Utility District/EPA tertiary treatment demonstration projects. Following the Tahoe assignment, Bob returned to the Corvallis office and the Industrial Waste Treatment Group (1968).
Upon the merger with Clair A. Hill and Associates, Bob and family moved to Redding (1976) where he went on to serve in several management positions, including Division Manager and Southwest Water District Discipline Director. In 1984, Bob moved to Denver to become Assistant Director of Water Supply and Treatment working with Ken Miller. He also served a 3-year term on the Board of Directors (1993-95). In 1997, became the Northeast Water Regional Business Group Manager (RBGM). In 2001, Bob returned to project work as Project Director for the Seattle Cedar Water Treatment Facility Design-Build-Operate (DBO) project (2001-2004), and subsequently as Project Director for initial phases of the San Diego Twin Oaks WTP DBO project (2005-2007).
As of July 1, 2008, Bob retired to flex status and is enjoying more time with family and friends; international travel; gardening; the never-ending struggle to learn how to play golf; and working with Meredith's dad on all kinds of shop projects. Bob is also looking forward to sharing more fond memories of many, many other CH2M HILL co-workers/friends during retiree get-togethers.
Susie Gaare, Secretary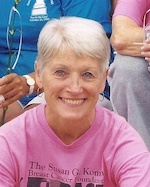 Born in Indianapolis, Indiana, in 1942, Susie attended Ball State University and graduated in 1964 with a B.S. Degree in Elementary Education.  She joined CH2M HILL in 1979 as part of an acquisition of seven people to enlarge the aviation/airport engineering and planning staff in the Southern California office.  Susie was the only editor in the office at that time, and she increased the size of the Publications staff, as needed, throughout her career.  She served as the Publications Lead until the mid1990s when she began to serve as the lead publications manager on many project reports.  Susie also wrote the SCO monthly newsletter for 27 years. 
Susie retired in June 2010 and was married 4 months later.  In mid-2011, she completed her 44th and last full marathon (yes, 26.2-mile race).  She and her husband, Jon, spend their retirement time traveling, walking and training for fitness races, reading, spending time with family and friends, and relaxing.  Susie also spends time editing biographies and stories for the CH2M HILL Alumni History website.
Anne Kernkamp, Director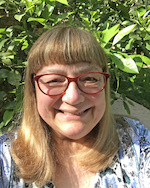 Born in Detroit, Michigan, in 1953, Anne attended Michigan State University earning her B.S. Degree in Civil Engineering in 1975, then a M.S. Degree in Civil Engineering in 1977.  Upon graduation, Anne joined CH2M HILL in the Wastewater Reuse Department in Corvallis, Oregon.
After a year in Corvallis, Anne transferred to San Diego where she had the amazing experience of working directly with founder Jim Howland on the San Diego Metro Wastewater Program, one of the firm's first wastewater programs.  After a stint in Virginia, she transferred to San Francisco.  For the next 25 years, she would work with the City of Santa Rosa on agricultural, industrial, and urban reuse, and also with the East Bay Municipal Utility District (EBMUD) on industrial water reuse. 
After marrying her EBMUD senior consultant and fellow employee Dana Rippon, they moved to Redding, California, where Anne managed the office before moving to Austin, Texas.  In Austin, Anne helped bring the City's three water treatment plants into compliance with the Safe Drinking Water Act. 
After retiring in 2014, they still call Redding home, where friends can visit them and the occasional peacock or at their log cabin in Southern Utah, where the buffalo roam out back safely behind a fence.
Gordon Koblitz, President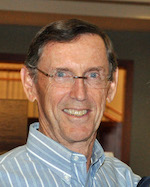 Born in Seattle, Washington, in 1941, Gordon attended California State University at Long Beach obtaining his B.S. and M.S. Degrees in Civil Engineering in 1967. Following graduation, he joined CH2M in Corvallis as a Project Engineer.
Gordon managed numerous wastewater treatment plant (WWTP) designs around the state and was fortunate to work with Les Wierson on the study and design of the Kihei, Maui, Hawaii, sewerage system in the early to mid1970s. Gordon moved to the PDX office in 1974. He became the 70s Division Manager and worked with major clients (Unified Sewerage Agency, City of Portland, and Clackamas County) while maintaining continuing roles in the Hawaii and American Samoa wastewater work.
In 1983, Gordon moved to Dallas to start a CH2M HILL presence in the State of Texas. Gordon also helped to obtain new projects in San Antonio and Austin in the mid-1980s, which led to new offices being established. Over the years, Gordon had roles as Dallas/Fort Worth Area Manager, North Texas Regional Manager, and Austin Area Manager.
Gordon went to flex-time status in 2007. Now fully retired, he keeps very busy in his role as Publisher for the CH2M HILL Alumni Newsletter and working with his retiree teammates on updating and developing the alumni websites. He and Mary enjoy extensive traveling with friends, family activities, Pickleball, summers in Oregon near Sisters, and keeping in touch with CH2M HILL friends.
Rick Luebbers, Director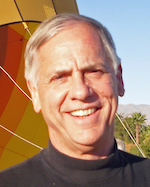 With a B.S. degree in Civil Engineering from the University of Nebraska, and a M.S. degree in Civil Engineering from Oregon State University in 1978, Rick is now a retired 41-year veteran of CH2M HILL with experience in the planning, design, and management of major transportation projects and programs.
During his career, Rick also served in several management positions in CH2M HILL's Transportation Group in Denver and in the Pacific Northwest. As well as delivering projects, he managed business development activities and served as sales manager on major pursuits.
Since retirement in 2014, Rick led the planning efforts for CH2M HILL's 2015 and 2016 Alumni Reunions and has served as an advisor to the teams planning the 2018 and 2020 reunions. He has participated in the CH2M HILL Alumni History group's activities and was part of the group that successfully led the proxy vote to place a retiree on the CH2M HILL Board of Directors. He currently serves on the CH2M HILL Alumni Association Board of Directors where he led the Nominating Committee for 2020.    
Don Marske, Treasurer
Born in Beloit, WI, in 1942, Don attended the University of Wisconsin at Madison, obtaining his B.S. Degree in Civil Engineering and an M.S. Degree in Sanitary Engineering in 1967. He joined CH2M in CVO immediately following graduation as a Project Engineer in Sid Lasswell's group.
He served as Project Manager on several water and wastewater projects in the Corvallis, OR; Milwaukee, WI; Maui and Honolulu, HI; Santa Ana, CA; and Santa Rosa, CA, offices. Significant projects included the Willow Lake STP expansion (1970) for Salem, OR; an Advanced Wastewater Treatment Facility Plan (1975) for the Madison Metropolitan Sewerage District; and an Advance Planning Report (1992) for the City of Los Angeles. Don served as the Chief Engineer for the Milwaukee Regional Office during the Program Management Office years (1975 to 1980), Pacific Islands Office Manager (1980 to 1988), and Marketing Director for the firm's Design and Construction Organization (2000 to 2004).
He retired in 2007 and remains busy serving the Alumni Association; being entertained by grandchildren; and traveling as much as the budget will allow.
Jay McRae, Director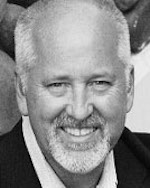 Jay attended Oregon State University, where he received his bachelor's degree in civil engineering. He also holds a master's degree in business administration from Portland State University.
As the North America Transit and Rail Director for CH2M, Jay brought the organization from ENR #14 to ENR #5 ranking in gross revenue in the US. Additionally, Jay led his team to 20% growth rates for four consecutive years while he was the Northwest Transportation Region Business Group Manager.
Jay is currently President of The McRae Group, LLC, based in San Diego, CA where he focuses on owner advisory services, team development, partnering and employee development.
Nancy Schultz, Director
Nancy was born in Anaconda, MT, in 1950. She attended Michigan State University from 1968 to 1972, receiving a B.S. Degree in Civil Engineering and a M.S. Degree in Water Resources Engineering.
Nancy worked for three other engineering firms and became a registered professional engineer before accepting a temporary project position with CH2M HILL in 1978 to support the Milwaukee Water Pollution Abatement Program (WPAP).
During her CH2M HILL career, Nancy concentrated on developing the firm's sewer system analysis capabilities, including championing the Conveyance technology community of practice. Nancy worked on sewer system models and projects from Edmonton, Canada, to Auckland, New Zealand.
In her retirement, Nancy still consults occasionally on combined sewer overflow (CSO) and sanitary sewer overflow projects. She remains active in several professional societies while she tries to find time to enjoy pets, reading, and traveling.
Jim Schwing, Vice President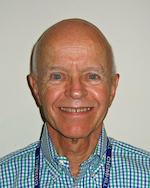 Born in Trenton, New Jersey, Jim Schwing obtained his BSCE Degree from Kansas State University in 1967 and his MSCE (Sanitary) Degree from the University of Illinois in 1970.  He joined CH2M in 1969 as a Project Engineer.  In October 1971, Jim relocated from the Corvallis Office to the Denver Office to become the third employee on the DEN staff. In June 1977, he relocated from DEN to Minneapolis to manage a major wastewater treatment plant Sludge Management Study. 
In January 1981, Jim accepted a temporary assignment in Alexandria, Egypt, to assist with the Wastewater Master Plan Update project.  In August 1981, he returned to DEN as a Wastewater Project Manager. 
In 1985, Jim became Program Manager for the EPA REM IV Superfund Program in EPA Region VIII.  In 1988, he became the Program Manager for EPA ARCS Superfund Program in EPA Regions VI, VII, and VIII.  In January 1991, he relocated to Pittsburgh to manage a major Environmental Permitting Project for Westinghouse's Bloomington, Indiana, PCB cleanup project.  In 1993, Jim was appointed the Pittsburgh Area Manager where he served until 2002 when Jim transferred to Salt Lake City in 2002 to serve as Area Manager, Client Service Manager, and Senior Project Manager.
During retirement, when he is not busy serving the Alumni Association, Jim plans to get reactivated in fly fishing, work in his garden, and ski and travel domestically and internationally with Mary.
Terry Sheldon, Director
Born in Tillamook, Oregon, in 1949, Terry attended Clatsop Community College in Astoria, Oregon, and earned an Associate of Science Degree in Civil Engineering Technology (1968). He then transferred to Oregon Institute of Technology in Klamath Falls, Oregon, and earned a Bachelor of Technology Degree in Civil Engineering Technology (1972).
Upon graduation, Terry was hired by the City of Bellingham, Washington, as an inspector to work under CH2M HILL's resident inspectors. It was here that the CH2M HILL team found Terry and invited him to move to the Portland area to work on the Clackamas County Wastewater Program.
In May 1974, he headed to the Denver area where he would spend the next several years with Bill (dip) Sinclair on several major water and wastewater projects. In 1988, the firm asked Terry to take on a pioneering role in Atlanta as the Eastern District Senior Construction Advisor. Terry would later serve as the Construction Practice Director from 1996 to 1998 and Construction Practice Technology Director for Resident Engineering and Inspection 1996 to 2002. In 2003, as part of the Construction Management Services (CMS) Group, Terry served as CH2M HILL's CMS Global Staffing Manager until 2014.
Terry retired from CH2M HILL after 40 years in May 2014 and has continued as a contract employee serving as a Senior Claims Consultant helping the City of Baton Rouge BRSSO Program support the client with a major lawsuit on two pipeline projects.
Terry and his wife, Valorie, found their retirement home in Valdosta, Georgia ("Title Town USA"), to be close to their daughter, son-in-law, and two grandsons who bring lots of fun in retirement. They love to travel and live close to several major destinations and wonderful beaches.