"Calgary, Canada has a great number of good looking logos atop its downtown towers. It announces the presence of a lead tenant, CH2M HILL, a global leader in consulting, design, design-build, operations, and program management celebrating its 35th year (2013) in this city.
The new Calgary office (1978) developed quickly and, teamed up quickly with Watson Engineering, won some relatively large heavy oil projects. A break-through was Suncor Fort Kent, which further established CH2M HILL's credentials in water treatment and led to recycling for thermal heavy oil projects. It also laid the ground work for the acquisition of Watson Engineering in 1984." [Excerpted by Dave Evans from a Waterton newspaper scan]
In August 2014, Ken McWhinnie, a 29-year employee of CH2M HILL, Calgary, Canada, wrote this alumni history editor, Dave Evans, the following:
"Watson engineering was the company's first acquisition in Canada. The company was started by Tom Watson in 1979 and became part of CH2M HILL in 1984. I joined CH2M in 1985 so I knew most of the Watson people although they were so well integrated that I didn't know they were Watson people until much later. Tom was a crusty old guy who played contact hockey into his sixties. I was a little afraid of him at first until I got used to his dry sense of humour. We became good friends. Tom's first love was flying and he owned a Cessna that he flew out of Springbank airport in Calgary. One of the senior people who came with Watson Engineering was Rob Bridgett. He was not an engineer but he did all their costing and pipe stress analysis work. He was a really nice fellow. His passion was also flying and Tom and Rob had many adventures including flying to Ireland via Newfoundland and Iceland. Sadly this passion was their undoing. Flying home one afternoon from BC they hit bad weather and the Cessna froze. Losing control, the plane crashed into the side of a mountain. Tom and Rob were killed, as was another passenger. By this time Tom had retired and Rob had moved to another company but their loss was felt heavily by us old-timers at CH2M."
Pat Berry was originally with Watson Engineering. He writes: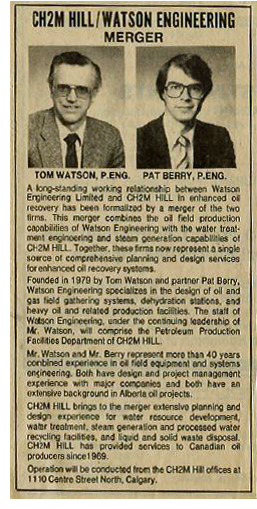 "Watson Engineering was formed in 1979 by Tom Watson, the principal and founding engineer who was formally with Associated Engineering of Calgary and Natco of Tulsa, Oklahoma and Calgary. Although a small oil and gas facility consulting firm, Watson Engineering was selected by Suncor to provide engineering design and procurement services for their Ft. Kent Thermal Project, which was one of the early commercial demonstration projects for bitumen production using steam injection technology. A major component of that project was produced water treatment for boiler feedwater and thus CH2M HILL was selected to join the Watson Engineering team to execute the water treatment portion of the job. The project design and construction was a great success for all the stake holders and the team work between the Watson Engineering group and the CH2M HILL group was outstanding. The project went on win the Schreyer Award for excellence in engineering design. Subsequent to that success, CH2M HILL and Watson Engineering agreed to formally join forces and CH2M HILL Canada purchased the Watson Engineering firm in 1984. The Watson Engineering group formed the oil and gas division of CH2M HILL Canada. There were ten Watson Engineering staff members that joined the CH2M HILL team at that time and they were as follows:
Tom Watson, Principal Engineer
Robb Bridgett, Senior Technologist
Sandy Schimic, Secretary
Bill Hafner, Senior Piping Designer
Darcy Friesen, Senior Civil / Structural Designer
Gerald Attwater, Senior Engineer
Bob Moser, Senior Technician
Charlotte Whitely, Senior Piping Designer
Victor Kaufman, Intermediate Designer
Pat Berry, Senior Project / Mechanical Engineer"
Tom Watson and Robb Bridgett were good friends who loved to fly. They had many trips together and both were experienced pilots. Not long after Tom retired and Robb moved companies they were flying over the Rockies when Tom's Cessna had mechanical problems in extremely poor weather conditions and they crashed in the mountains. Tom, Robb and another gentlemen lost their lives.