Bob Chuck, a much-loved and loyal CH2M HILL family member, passed away peacefully on December 27, 2013 at the age of 89.
Bob was a key figure in opening the CH2M HILL office in Honolulu back in the late 1970s and early 1980s and helped build our water practice in Hawaii while building his own national reputation in the water industry. Bob was a truly remarkable and vivacious man, and just about everyone in the city knew and loved him. Bob was an avid golfer, and besides serving as a mentor in the Honolulu office, he was the "designated golfer" representing CH2M HILL in many client-oriented golf outings. Bob enjoyed singing and playing the guitar, organizing and leading many office "sing-along sessions" with traditional Hawaiian songs and the ukulele. Although retired, he still had a cubicle in the HNL office and popped his head in every once in a while, serving the firm for 27 years. Most of all he was a doting grandfather. "His pride and joy were his grandkids," said his daughter Lisa.
Bob enjoyed mentoring others and lived life to the fullest, according to Lisa. "My father taught us to be positive, to care about other people, and to carry an enthusiasm for life."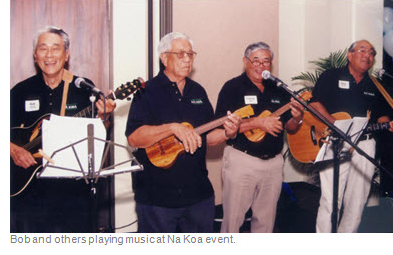 Dennis Peters/HNL echoed this sentiment sharing, "Despite whatever other important tasks were at hand, Bob never stepped away from an opportunity to acknowledge and personally value the people he interacted with. When I transferred to Honolulu from Corvallis, OR in 1996, he was supportive and encouraging, helping me feel like I really was part of the Honolulu office 'ohana (family). He did the same for my wife when she joined the office a year later and throughout her tenure, she and I heard from many others who joined the office over the years that Bob did the same for them. Bob's sense of sharing aloha and valuing people, along with his enthusiasm for supporting the personal and professional lives of many of us in Honolulu, will always be appreciated by many and is an important component of the overall legacy he leaves in his passing."
Paul Luersen/HNL shared, "Bob was instrumental in getting me transferred back home to Hawaii from our Seattle office in 1990. Welcome to our 'ohana, he said. In the Hawaiian language, 'ohana means 'family' and is often used to mean an extended family. I had become a member of the Honolulu office family.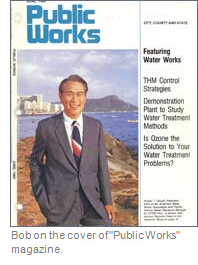 "Bob infused the office with the culture of 'ohana with his generous nature and love of music. It was a culture that bound us together and served the office well through a couple decades of growth and change. We may work long hours, but there was always time to talk story and enjoy life together. And if you could sing or play a musical instrument, you would find yourself at the occasional Bob Chuck sing-along at lunch. (I played the ukulele, but he could not get me to sing.) Bob was well known in island circles for his guitar serenades. He even had his own sheets with words and guitar chords so everyone could sing and play along. What better way to bring people together than through music to create that feeling of 'ohana.
"The holiday sing-along became an annual office tradition complete with ukuleles, an electric guitar, and carolers. Even after Bob 'retired' he would make sure to schedule and lead the annual sing-along. We looked forward to it. This past year, Bob said he could not lead the holiday sing-along because he had lost his singing voice, and urged us to continue the tradition. So we found copies of his music sheets, tuned up the ukulele, plugged in the guitar, and cleared our throats to carry on the tradition of music and 'ohana. Aloha, Bob."
Ross Kaneko/HNL, who also cites Bob for his help getting him back home from San Jose to work in Honolulu in 1992, shared, "My lasting debt to Bob will be that he taught me (both directly, and indirectly through his behavior and actions) how to survive and thrive in our unique business culture. He showed me that personal relationships (real relationships, not superficial business connections) were critical; that the person was far more important than the position, and that I needed to recognize and acknowledge such. From an early age and during the formative years of my career, Bob served as a unique and valuable role model. My obligation to him will be to pass these lessons on. I have many memories of Bob, and I owe him a lot. Bob will always be remembered as the heart of the office, and the singular person most responsible for infusing the office with the aloha spirit that was palpable to even first-time visitors to our office, and which really made us unique. He will be missed."
Harold Chun/HNL shares a particular golf experience he had with Bob some years ago that is still vivid in his memory bank: "Bob invited me to play golf with him on a Saturday morning. He told me to meet at 5:15 am at the Olomana Golf Course on the windward side of the island, where he had a standing invitation every Saturday to be the first off the tee in return for some engineering work he did for the course many years ago.
"At about 5:30 am, Bob says to me, 'Okay, you're first off the tee, go ahead and hit.' I said, 'It's still pitch black,' and he replied, 'Just hit it in that direction, then we'll go and look for the golf balls.' We did, found our golf balls and continued hitting, and by the time we reached the first green, there was just enough light where we could putt fairly reasonably. The morning was great; it was dark, the air was cool and crisp, there was dew on the fairways, the birds were singing, the roosters in the area were crowing, and the sun was just coming out. What a beautiful morning!
"This went on for the 18 holes and, without anyone in front of us, we finished at 8:30 am. Bob was 85 at the time and he shot an 85 for the day. (I can't tell you what I shot ….. I lost count). By completing the 18 holes so early, it still gave me plenty of time to go home and take my wife out to breakfast. I will remember this day because even though Bob trounced me, he was such an amazing and humble guy that he still made me feel that I was his equal in golf. That's how Bob was…he treated everybody equally, fairly, and with respect. He was always supportive and encouraging and was well respected in the engineering world as well as the local community."
About Bob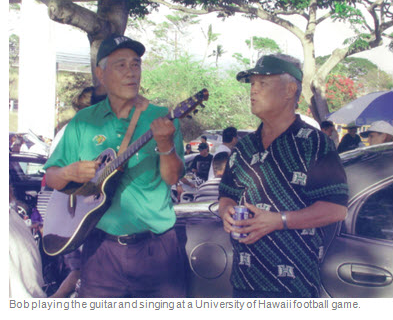 Born in Honolulu in 1923, Bob graduated from Michigan State University with a bachelor's degree in civil engineering in 1948 and a master's degree in civil engineering from Cornell University in 1949. He worked as a bridge design engineer and assistant airport engineer with the State Department of Transportation before he became manager and chief engineer of the state's Water Resources Agency, where he stayed until 1984. In this position he initiated and directed Hawaii's water resources planning, development, water use regulation, and conservation activities.
CH2M HILL hired Bob in 1985 in Honolulu, where he served as the CH2M HILL manager of the Pacific Island Office for about 10 years before moving to a part-time position. While with CH2M HILL, Bob managed projects that included water source development, design of facilities, inventory and studies of water resources, design of water facilities and systems, system and organization management studies, and more. CH2M HILL alum Don Marske shares more about Bob and his role in the exciting beginnings of the Pacific Island Office.
Bob was very active in professional societies and was elected national president of the American Water Works Association in 1987. He also served as national president for the National Water Resources Association and the Association of Western State Engineers. For the American Society of Civil Engineers, Bob served as a national director on the Board of Direction and was involved in many ASCE activities. In Hawaii, he was active in the ASCE local section, serving as chair in 1977, and as president of the Hawaii Water Works Association in 1982. In 1979, Bob was named Hawaii State Engineer of the Year. During his career, he also was honored with the Fuller Award by the American Water Works Association-Hawaii Chapter, National Water Resources President's Award, and Hawaii Council of Engineering Societies Lifetime Achievement Award.
Bob also contributed to his community by teaching evening courses in civil and structural engineering at the University of Hawaii for 25 years. He was president of Parent Teachers Associations and in 2000, the state appointed Bob as the first chairman of the Board of Certification of Operating Personnel in Wastewater Treatment Plants. He was an active member of the Kuliouou-Kalani Iki Neighborhood Board for more than a decade.
Bob is survived by his wife, Florence; son Fred and daughter Lisa; and four grandchildren.
AWWA Student Scholarships in Bob's Name
As Bob was very involved with the American Water Works Association both locally and nationally, the CH2M HILL community will be making a donation on his behalf to help fund two scholarships, awarded by the Hawaii Section of the AWWA, for students attending college. Individuals interested in supporting this effort are asked to make checks out to AWWA Hawaii Section and make a note of Bob Chuck's name on the bottom left of the check. Checks should be mailed to the attention of Brennon Morioka in the HNL office at 1132 Bishop Street, Suite 1100, Honolulu, HI 96813. The Honolulu office would like to present the collection to AWWA by the second week of February, so it would be appreciated if all checks can be received by February 8.
<< Back