A late bloomer who didn't enter the University for almost 5 years after graduating from high school, Dick did a number of interesting and useful things before securing his higher education and as well as afterwards – all of which contributed to his very successful career in Government Relations and as an Association Management Professional.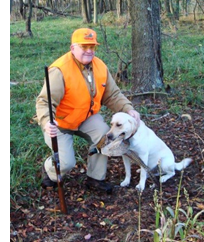 He worked for farmers and a mink rancher and owned a small mink ranch until the Scandinavians broke the American fur market in the early 1960s. Dick also operated all types of heavy equipment on road, grading, and building projects during the years between high school and his matriculating as well as every subsequent summer to pay for the education he then eagerly desired.
A life-long hunter, competitive shooter with all types of firearms, and gun collector, at an early age he was elected head of the North-South Skirmish Association, a national Civil War themed organization whose members competitively fire rifled-muskets, carbines, cap and ball revolvers, and even full-size cannons in team and individual competition. On a volunteer basis, he walked the Halls of Congress and, after 4 years, secured repeal of a badly drafted 1970 "Anti-Terrorist" Law, which limited access to black powder (the only propellant that can be used safely in such firearms) and threatened survival of such wholesome shooting activities as well as celebrations of the Nation's Bi-Centennial and "The 1812 Overture."
Appointed by Governors George Allen and James Gilmore, Dick served two, 4-year terms as a Board Member of Directors of the Commonwealth of Virginia's Department of Game and Inland Fisheries during the late 1980s and early 1990s. The Department is responsible for traditional hunting and fishing policies as well as the Commonwealth's natural resource and environmental policies. He also served two terms as a member of the NRA's Board of Directors during the 1980s.
<< Back