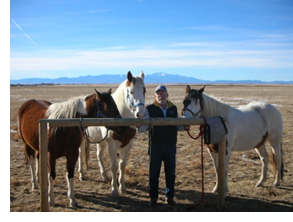 I'm on 40 acres and have a direct view of Pikes Peak from my living room window. I have four horses now. A baby was born last May and, WOW, is she growing fast. I'm learning, by listening to others (may come as a surprise to some) and reading some, to train the baby and another mare that I purchased (she is going on 4 now). This mare is a story unto itself. My dear friend, who I purchased the first horse from and was teaching me about taking care of horses, died on Lake Powell back in September 2007. We had become close in the short time. I knew him Well, lots of folks were worried that his herd (some 30 horses) would be put up for auction (which normally means sent to a meat factory in Mexico or Canada); so I purchased this un-broken mare. My friend had just finished AI (artificial insemination) on the mare I already had (the first horse), and so she was pregnant with the baby. Anyway, now I have four; and it is a blast. Makes me get up and do something, and they (the horses) are amazing teachers. I think they teach us more than we teach them.
On scuba and skiing, I fulfilled a life-long fantasy vacation (before retirement) when I went to New Zealand to snow ski and then a week later flew to Australia and dove the Barrier Reef for a week. I spent some time in Sydney and came home. WOW, what an awesome trip! I really don't know if I'll scuba any more. I did, at one time (when living in Florida), do a considerable amount. I think I may just stick to snow skiing once a year with Henke, Kenas, and Biglen.
The volunteer work has become one of the highlights of my week. I'm now going 2 days a week. It is a program for autistic children (and others with similar impairments) and has been proven to increase their quality of life. There is something therapeutic about the movement of a horse that does this. It is amazing to see the changes. In addition, the program works with injured veterans (many from the Iraq conflict). Some are completely wheelchair bound, BUT they still ride; and I see improvement in their confidence and upper body strength. It really is amazing what these animals can do for us.
Things are just awesome as long as I get out of my own way and allow life to happen the way it is supposed to.
Note: More pictures and Tim's retirement presentation are also available: View the fun scrapbook of memories that was presented at his retirement celebration.
<< Back