Jim Poirot joined the military when he was called into active duty at the end of the Korean War in November 1953. His assignment was primarily spent as a Lieutenant in the U.S. Army Corps of Engineers inspecting construction during the rebuilding of Eielson Air Force Base near Fairbanks, Alaska.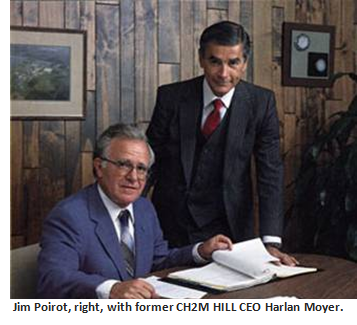 Throughout his career, Jim was very active in professional and community service organizations holding major offices at various levels including national president of the American Consulting Engineers Council; national president of the American Society of Civil Engineers; and president of The Western Regional Council, a western states group of 50-60 industries working on environmental and resource issues with governors and congress. Jim was also founder and president of the Design Professional Coalition consisting of the major national engineering firms working with Congress. Globally, Jim served as Vice Chairman of the American Association of Engineering Societies, Vice President of the World Federation of Engineering Organizations (WFEO), and President of WFEO ComTech, the standing committee on technology.
During his career Jim received several national and international honors and awards including being chosen as the Engineering News Record (ENR) 1988 Man of the Year, being elected to the National Academy of Engineering in 1993, being presented an Honorary Doctorate Degree in Engineering at Oregon State University (OSU) in 2003, and receiving ASCE's American Civil Engineer Award in 1998. Jim also was presented the ACEC Distinguished Award of Merit in 2000; received the Palladium Medal from the National Audubon Society for Engineering Achievement in Environmental Conservation in 2003; and received the WFEO Distinguished Achievement in the Service of Humanity Medal, which was awarded in Moscow, Russia, on September 11, 2001. In 1999, OSU elected Jim into the inaugural class of the Engineering Hall of Fame; and, in 2001, the Japan Society of Civil Engineers elected Jim 1 of 40 Honorary Members and the only one from the U.S.
His after retirement activities included being a member of the U.S. Delegation to the United Nations General Assembly in 1997; serving to bring engineering perspectives into The Earth Charter, a global organization headquartered in Costa Rica; and being a founding member of the World Engineering Partnership for Sustainable Development. Jim served on nine advisory boards at universities and lectured at more than 30 universities including the first ASCE Practitioner in Residence at Texas A&M.
After living in large cities for over 40 years, Jim and his wife Raeda returned to Roseburg, Oregon, which they left after high school, and found it to be the most enjoyable location of all and where friends are always welcome.
The following was published by the American Society of Civil Engineers.
ASCE Mourns Passing of James Poirot, 1994 ASCE President
ASCE is saddened to learn of the passing of James W. Poirot, P.E., Pres.94.ASCE, NAE, the Society's 1994 President, on Aug. 4. Acclaimed worldwide for his leadership in environmental engineering and as an early advocate of sustainable practices, Mr. Poirot served as chairman of the board of CH2M Hill from 1983 to 1993.
Widely admired by all who knew him, Mr. Poirot was active in ASCE for more than 40 years, starting in the early '50s while at Oregon State University, through career moves that took him to Fairbanks, Alaska, Seattle (as Section president), Atlanta and Denver, culminating with his year as ASCE President in 1994. Mr. Poirot said his loyalty to ASCE was based on the Society's position as an unbiased regulator of codes and ethics.
During his year as ASCE President, Mr. Poirot was instrumental in establishing the ASCE Excellence in Journalism Award, recognizing journalists who help the public understand the role and impact of civil engineering in their lives. Founded in 1994, the annual award is showcased at ASCE's OPAL Gala.
Mr. Poirot's greatest legacy as President was pressing successfully for the move of ASCE's headquarters from its New York City roots. Under his guidance, ASCE relocated to suburban Washington, DC, in Reston, VA. The James and Raeda Poirot Lobby at the headquarters building is named in their honor.
Mr. Poirot was a founding board member of the World Engineering Partnership for Sustainable Development, and later, vice president of the World Federation of Engineering Organizations. He served as president of WFEO's Committee on Technology (ComTech) for four years and led the engineers' response to sustainable development for the United Nations' Committee on Sustainable Development. Guided by Mr. Poirot, ComTech brought case study, real world solutions to sustainability issues at the annual United Nations Committee on Sustainable Development's spring conferences. In 1994, he was instrumental in providing civil engineering input to create the Earth Charter, a grounds-up approach to the world's acknowledgement of sustainability issues. At the Earth Charter's inaugural ceremony in The Hague, Netherlands, Mr. Poirot delivered an address before Earth Charter Chairman Maurice Strong and Mikhail Gorbachev.
A member of the National Academy of Engineering, Mr. Poirot also served as president of the American Consulting Engineers Council, chairman of the first ABET Industrial Advisory Board, and member of The Oregon State University Advisory Board.
His contributions were recognized with many awards, including the 1998 Kenneth Andrew Roe Award, presented by the American Association of Engineering Societies, honoring his effective ability to facilitate collaboration among engineering organizations. Mr. Poirot earned a bachelor's of science degree in civil engineering in 1953 from Oregon State University, from which he also received an honorary doctorate in engineering in June 2003.
The leadership, staff and members of ASCE extend our condolences to the Poirot family, Jim's many friends and colleagues.
<< Back