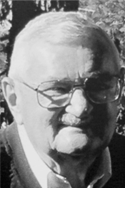 [The following obituary appeared in the Corvallis Gazette Times on June 13, 2012]
Harry passed away of natural causes at the age of 85 on June 2 in Redmond. He was surrounded by his loving family, and he had the support of his many great friends.
Harry led a spirited and accomplished life, and was loved for his frankness, humor, desire for excellence, commitment to causes, and the guidance he provided others.
In 1944, at the age of 17, Harry joined the U.S. Marine Corps to fight in World War II, turning 18 in the middle of the Pacific. His service took him to Okinawa, Iwo Jima and Tsingtao, China, before finally returning home to meet the love of his life, who became his wife of 62 years, Delores (Dee), in 1948 on the beach at Oceanlake.
Harry and Dee attended Oregon State College (now Oregon State University), where they developed a lifelong love of the university and were great supporters of the school's athletic teams. Harry eventually became president of the Beaver Club, helping to raise spirit and funds for the benefit of student athletes, alumni, athletic programs and sports facilities.
In 1956, Harry joined the engineering firm CH2M in Corvallis, where he first provided architectural design services for the firm's many clients. He flourished at CH2M for 30 years, rising to become Vice President of Construction Management Services, a practice area he defined and developed, and he created many projects throughout the United States and internationally.
He also advised on the formation of the School of Engineering Management within the Civil Engineering Department at OSU.
Harry had great civic pride and a sense that one had to participate and give back to the community. He was elected to and served on the Corvallis City Council for four years. He was a founder and first President of the Benton County YMCA, spearheading building of a new recreational center in Corvallis; was on the Board of Directors of Central Oregon Community College; and served on the Central Oregon Economic Community Development Council.
He was a founding member of the McKenzie Masters Invitational, now in its 22nd year.
Outside all of his professional and civic interests, however, was his real love — fly fishing. As a boy he fished with his father on the Deschutes River, the two of them driving from Portland for hours on gravel roads to fish that great river. Eventually, he fished all the great rivers of the West and beyond. He last fished on the Madison River at Ennis, Mont., in October 2011, catching and releasing many beautiful rainbows.
When Harry retired from CH2M Hill, he and Dee moved to Sisters, opening The Fly Fishers' Place, which became a welcome stop for fishermen en route to the rivers and lakes of Central Oregon. Harry and Dee made a multitude of new friends, and Harry took them, family and clients fly fishing to Patagonia, New Zealand, Alaska and Montana.
Harry was the first author in what would become a series of fly fishing guides for Western rivers. His first book, "The No-Nonsense Guide to Fly Fishing Central & Southeastern Oregon," was a culmination of his love and knowledge of the rivers and lakes that were first among his favorite places on earth. His second book was "A Guide to Fly Fishing the Ennis Area of Montana."
It was his desire to share these areas with others so they too could have the enjoyment of fly fishing.
Harry's love of Central and Eastern Oregon's beautiful landscapes and history often led him to whisk off Dee or one of his friends, driving for hours on the back roads to be immersed in the land and to talk for hours.
Harry will be greatly missed, most deeply by his family, and also by his friends and all those who had the great joy of knowing him.
Harry is survived by his wife, Delores, of Redmond; his sons, Brad Teel and wife, Alicia, of Corvallis, and Bruce Teel and wife, JoAnne Dunec, of Berkeley, Calif.; daughter, Sue Simes, and husband, David, of Vancouver, Wash.; son, Brett Teel, of Camas, Wash.; and daughter, Shelley Teel, of Tualatin; grandchildren, Celeste, Travis, Nicole, Jason, Andrew, Kylie and Brian; great-grandchildren Maia, Kaya, Cole and Bella; and his German shorthaired pointer, Willie.
A celebration of his life will take place at 1 p.m. Saturday, July 14, 2012, at the Lodge at Black Butte Ranch. Fly rods will be present.
<< Back