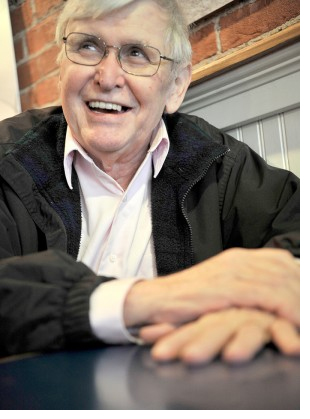 Hans Neukomm built a lot of power plants in his 30-year career with CH2M HILL, but he may have built an even more enduring legacy when he created Leadership Corvallis. Since its inception in 1992, the program has trained a whole generation of civic leaders for the community Neukomm called home for 45 years.
Neukomm succumbed to cancer on Monday at the age of 74.
Survivors include his wife, Adele; a son, Hans Jr. of Philomath; and a daughter, Heidi of Corvallis.
Funeral arrangements are under the direction of McHenry Funeral Home.
"It's very sad news," said Julie Manning, who was sworn in as mayor of Corvallis on Monday. "He definitely loved this community and really worked tirelessly on its behalf."
Manning should know.
She was part of a task force that helped Neukomm organize Leadership Corvallis after he brought the idea back from a business trip to Spokane, which had a well-established system for training future community leaders.
She was also a member of the Corvallis program's first graduating class. Since then, several hundred local residents have gone through the 10-month Leadership Corvallis training — including Biff Traber, one of two incoming City Council members who took office along with Manning on Monday.
"His role in Leadership Corvallis kind of personified the contribution he made," Manning said, noting that Neukomm was deeply proud of the many program graduates who went on to serve the community in a variety of capacities. "What a wonderful living tribute that is."
Neukomm was born in Switzerland and earned a bachelor's degree in electrical engineering at the Ingenieurschule Burgdorf in 1959 before emigrating to America in 1963.
Though he became a U.S. citizen in 1968, he never lost his Swiss accent — or his love of Swiss chocolates, which he frequently passed out as gifts to friends and colleagues.
He came to Corvallis in 1965, when he joined CH2M HILL as a project engineer. Neukomm rose through the ranks at the growing engineering firm, in 1983 becoming vice president and director of electric utility services with national responsibilities for electric power system projects and serving as technology director for electrical engineering for many years before retiring in the mid-1990s.
He represented the company on the board of the Western Electric Power Institute and served two terms on the Oregon Energy Facility Siting Council.
But as considerable as his professional accomplishments were, his contributions to his community were even more impressive, said Elizabeth French, who heads the Corvallis regional office of CH2M HILL.
"He really had a very strong belief in public service," French said. "I really think that's his legacy."
Neukomm was active in numerous civic clubs and community organizations. He joined the Corvallis Rotary Club in 1982 and became president in 1998. In 2003-04, he served as district governor for 65 Rotary clubs in Oregon and California.
Over the years, he sat on the boards of the Good Samaritan Hospital Foundation, Linn Benton Community College Foundation, Corvallis Benton County Economic Development Partnership, and the Oregon Trail Council of the Boy Scouts of America.
In 1996, he won the Boy Scouts' Silver Beaver Award; and, in 2002, he won the Governor's Economic and Community Development Award. He was named Corvallis' First Citizen in 1996 and Senior First Citizen in 2009, becoming only the second person to win both accolades.
"Hans is a significant piece of the fabric of Corvallis," said Corvallis Benton Chamber Coalition President Marcy Eastham, a former Hewlett-Packard executive who rubbed elbows with Neukomm in numerous civic and business groups. "Name an organization and Hans has touched it."
A master networker who seemingly knew everyone in town, Neukomm never allowed his professional relationships to overwhelm his personal ones. Eastham recalled bumping into Neukomm once at a local nursing home, where her mother was receiving treatment.
"He didn't know her from Adam, but he saw me in the hallway and came over and introduced himself and told nice stories about me, which was embarrassing," Eastham said.
"That was Hans. To me, he was always such a kind and reassuring presence."
Neukomm's ability to get things done was legendary. Penny York, who took the helm at Leadership Corvallis when Neukomm finally relinquished the position in 2003, said she only agreed to do so after the top job was broken into three pieces, with a board of directors, a program host, and a curriculum committee.
"Once he had an idea and a plan, he was going to do it, so you either went along with it and helped or you got out of the way," York said.
At the same time, Neukomm knew when to get out of the way himself.
"He was always helpful to me when I took over, always good about telling me what I needed to know without telling me what to do," York said. After watching the new board of directors at work, she recalled, "Hans just smiled and shook his head and said, 'This is exactly what I wanted.'"
Longtime friend and fellow Rotarian Bob Holcomb said Neukomm was dedicated to the service club's goals and remained active in Rotary affairs to the end, despite his deteriorating health.
"The last message he gave me, about a week ago, he said he was mad because his physicians wouldn't let him do what he wanted to do," Holcomb said.
"He still was thinking of other people's problems. He was a hell of a guy."
<< Back