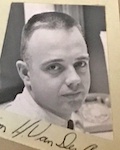 I grew up in Illinois just south of Chicago. My brother, who is a year older, and I attended the local junior college for 2 years. We were first generation college students. Al went on to study forestry at Oregon State and sent back reports of what it was like in Oregon. It all sounded good to me. After junior college, I transferred to the University of Illinois in Urbana/Champaign to complete a degree in Civil Engineering. The Civil Engineering curriculum was being revised when I transferred, and it appeared that it would not be possible to complete my degree in 2 years. I later found out that was not correct; but the damage was done, and it was going to take an extra semester.
Based on my brother's reports, I wanted to go to Oregon after graduation. So I decided to go there the summer before my last semester to explore employment possibilities. I had the money for that last semester plus $300. I expected I could find a job of some sort to help support myself over the summer. A guy in the dorm wanted to transfer to the University of Oregon and stay with his grandparents in the Portland area during the summer. We arranged that he would ride along with me and share travel expenses.
I only needed three classes to complete my degree; but for several reasons, I needed to take at least four courses. I considered taking a graduate course in sanitary engineering, and to do that as an undergraduate required permission of the professor. During my meeting with Professor Ben Ewing, I mentioned my plans for the summer. Ewing said he understood that professor Fred Merryfield at Oregon State was involved in a firm. I wrote to Fred at Oregon State and included a transcript and other information about me. In his return letter, he mentioned a project that might need field staff that summer. Both he and I were very busy, so there was no further correspondence.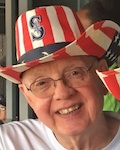 I proceeded with my summer plan and arrived in Portland on a Thursday; and the next afternoon, I drove to Corvallis. I called the CH2M office and asked to speak to Fred who was not in. I explained that I had corresponded with Fred regarding a possible job and asked if there was someone else there who I could talk to about that. My call was directed to Ralph Roderick. I told Ralph about my correspondence with Fred and asked if I could arrange an interview even if no summer job was available. To my great surprise he asked, "How long would it take you to get here?" I was only 5 minutes away. I got to the office at about 4:00 o'clock; and by 5:00 o'clock, I was hired and invited to Ralph's house for dinner. I later found out that about 20 minutes before I called, Gene Swanson told Ralph that he needed additional staff to work on a preliminary design of relocation of 22 miles of the Northern Pacific Railroad around the pool behind Lower Monumental Dam on the Snake River.
And that was the start of a 48-year career with CH2M HILL.
<< Back