History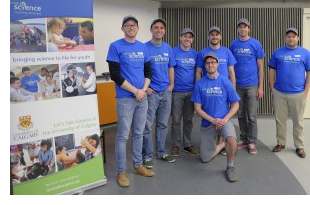 A Strong Foundation for a Sustainable Future
The CH2M Foundation partners with organizations in our operating countries to develop sustainable communities and inspire the next generation of STEM talent. We focus our support on sustainable communities; science, technology, engineering and math (STEM) education; and employee engagement.
Our History
CH2M launched its corporate foundation in 1992 to honor the firm's founders–Holly Cornell, Burke Hayes, Jim Howland and Fred Merryfield– (pictured above) and support their legacy of strengthening communities through engineering excellence and community engagement.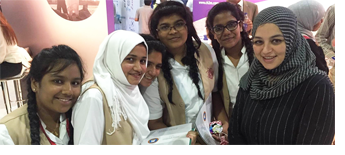 For more than a decade, the CH2M Foundation helped further academic excellence in engineering and technology by investing more than US$2 million in college and university programs. In 2006, the Foundation kicked off a grant program to benefit Engineers Without Borders USA (EWB) to support CH2M's commitment to attracting, developing and retaining top talent in the industry. Today, the CH2M Foundation is a robust philanthropic organization with an expanded global scope and a focus on three strategic areas of giving: building sustainable communities; science, technology, engineering and math education; and employee engagement. Its Board of Directors and staff are comprised of employees from all over the world to provide the professional guidance and direction expected of CH2M's 25,000 employees.
CH2M Foundation: investing in our values
In 2016, the CH2M Foundation awarded $1 million supporting our strategic partners in promoting science, technology, engineering and math (STEM) education and building sustainable communities.
"I'm continually inspired by our employees," says CH2M's Foundation Executive Director Ellen Sandberg. "Our company's core values and employees' passionate engagement are central to our success."
Governed by an employee board, our award-winning Foundation makes significant impacts delivering greater social, environmental and economic benefits around the world.
Inspiring, educating and mentoring to promote STEM education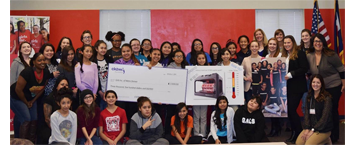 "Our people make a difference through their daily work," says CH2M Foundation Board President Patrick O'Keefe. "The CH2M Foundation reinforces its commitment by focusing on the communities we serve."
CH2M also granted funds to strategic partners promoting lasting, life-sustaining infrastructure, working with communities to build and maintain their water and transportation projects.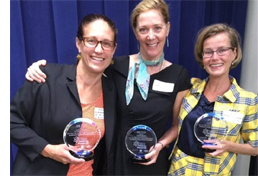 Building sustainable communities
Bridges to Prosperity: Funded employee-volunteers to build bridges in Nicaragua and Rwanda. Since 2014, 56 employees have built seven footbridges in Panama, Nicaragua, Rwanda, the Philippines and East Timor, providing safe passage across dangerous rivers, enabling medical and economic access and improving thousands of lives.
Engineers Without Borders-USA: Funded a team of employee-volunteers to conduct a feasibility study of a micro-hydro dam in Guatemala and provided support for planning, monitoring, evaluating and learning. Our funding has changed the landscape of what is possible for the organization.
WaterFor People: Awarded a grant for Nicaragua and raised $200,000+ in employee donations to support Water For People's programs to ensure access to clean safe drinking water and sanitation.
The CH2M Foundation also provided matching funds for employee contributions to American Red Cross disaster relief in response to wildfires in Alberta, Canada and flooding in Louisiana.
CH2M has a proud history of supporting charitable causes in the communities where we live and work. In alignment with our CH2M Foundation's mission, all charitable giving by the company and employees now aligns with the following three strategic criteria:
A focus on STEM education and/or environmental stewardship.
Alignment with the interests of our key clients.
Support for organizations that share CH2M's core values.
By implementing this strategic and focused approach to community investment, CH2M's charitable giving achieves these objectives:
Greater overall impact by aligning donations with our core business.
Enhanced business relationships by investing in the shared charitable interests of our clients.
More rigorous governance and risk mitigation of charitable giving through the use of a required workflow process.
Want to learn more about the CH2M Foundation? Contact Ellen Sandberg or Patrick O'Keefe.