CH2M HILL Alumni Center at Oregon State University Celebrates 20th Anniversary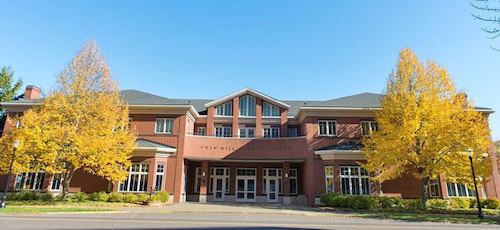 CH2M HILL Alumni Center at Oregon State University Celebrates 20th Anniversary
On October 28, 2017, the Oregon State University Alumni Association (OSUAA) celebrated the 20th anniversary of the opening of the CH2M HILL Alumni Center. This center, located on campus in the heart of the OSU athletic facilities, has served its mission well, providing a beautiful home for alumni to gather when returning to campus, while serving as the administrative center for the OSUAA alumni relations staff. During the ceremony, OSU President Ed Ray, OSUAA Executive Director Kathy Bickel, and others graciously acknowledged CH2M HILL's contribution of funds, time, leadership, and talents making this center possible.
According to Christi Kasten, OSUAA Senior Associate Executive Director, the CH2M HILL Alumni Center has also proven to be a premier conference facility for the university and the mid-Willamette Valley. Last year, the center held 350 events and hosted more than 87,000 people. Eighty percent of the events are university related. The Alumni Center hosts alumni and student events; conferences and meetings for the university, nonprofits, and associations; community events; fundraisers; private weddings; etc. The Alumni Center has become a vital hub for OSU alumni, students, and the community, while proving an ongoing source of revenue to help sustain the OSUAA's important activities.
Roots of the Alumni Center
The roots of the Alumni Center took hold in the early 1990s as the vision of Don Wirth, the long-time director of the OSUAA, and its Board of Directors at that time. Don approached Jim Poirot, OSU Class of '53, then chairman of the CH2M HILL Board of Directors. They forged an agreement, for which Jim championed support from within CH2M HILL. On January 15, 1993, Ralph Peterson, then President and CEO of CH2M HILL, pledged that the firm would contribute $2,000,000 in cash and in-kind design and construction services as the lead donor. The pledge was in part made to honor the five founders of CH2M HILL: Holly Cornell, Jim Howland, Burke Hayes, Fred Merryfield, and Clair Hill; and all OSU grads. Also, Ralph was quoted: "We are saying 'thank you' to OSU for providing CH2M HILL with so many talented people." Jim Poirot, working closely with Don Wirth, was appointed as Chairman of the Alumni Center steering committee, charged with raising additional funds and creating the center. The total cost of the project was approximately $8 million dollars, all private funds.
In total, CH2M HILL and its employee-owners ended up contributing over $2,500,000 including donated in-kind services. Fred Harem, OSU Class of '50, and one of the early partners during the formative years of the firm, took the lead on encouraging CH2M HILL employees and retirees to make personal contributions, beyond the corporate commitment. Alumni Center records list 31 employees or retirees who made individual donations, most of whom were OSU grads. The following individuals, often with their spouse, are on record as being individual contributors:
Mr. William E. Irving, Mr. Bill Byers, Ms. Sharry Breithaupt Gale, Mr. Bob Chapman, Mr. Carl E. Ryden, Mr. Paul Kiyoichi Fujimoto, Mr. Steven J. Allen, Mr. Harry C. Teel, Jr., Mr. Gregory T. Young, Mr. Roderick G. McLeod, Mr. Norman L. Nelson, Mr. Ernest E. Staley, Mr. Craig L. Barrett, Mr. Theodore A. Downen, Mr. Melvin R. Adams, Mr. Robert R. Adams, Dr. Donald Gordon Anderson, Mr. Hadi R. Azari, Mr. L. Sheldon Barker, Mr. Kenneth D. Bielman, Mr. Phillip L. Cole, Mr. Steve C. DeAutremont, Mr. Kenneth D. Dobbin, Mr. George F. Dotson, Mr. Kenneth F. Durant, Mr. David R. Evans, Mr. Fred E. Harem, Mr. Burke Hayes, Mr. James Chase Howland, Mr. Richard Craig Humphrey, Mr. Robert R. Kinkead, Jr., and Mr. Ralph Peterson.
Design and Construction of the Alumni Center
Design of the Alumni Center was led by the Industrial Design Center (IDC), a Portland-based division of CH2M HILL with strong architectural capabilities. Ken Lundgren was the Project Architect. At the outset of the project, he and several OSUAA staff and board members toured other successful alumni centers around the U.S. while forging the features and design concepts for OSU's center.
The ground-breaking ceremony for the new Alumni Center occurred on August 1, 1995. Andersen Construction Company of Portland was the prime contractor. Ernie Staley became the IDC Project Architect for construction services. During this phase, Jim Poirot stayed active as a sponsor for the project, attending many planning and review meetings in Corvallis, including his wife Raeda. They lived in Denver at that time, and Raeda piloted their plane so that Jim could attend these meetings.
Construction of the 45,000-sq.ft., $8-million CH2M HILL Alumni Center was completed in September of 1997.
The Future
It is likely the Alumni Center will continue to fill its vital role for many years to come. The quality of the design, construction, and maintenance is evident. The facilities are still in "like new" condition.
More pictures, details, and information about the Alumni Center are available at the following OSUAA web site:
(Contributed by Bob Chapman, Class of '65, Employee No. 209, for posting on CH2M Alumni History website, October 30, 2017)