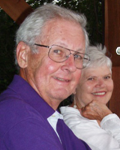 Since retiring in 2002, Mike and his wife, Sharon, have moved to Sisters, Oregon, bought some acreage, and built a home. They enjoy hosting many friends in their home. They are involved in the Sisters community through volunteer work with Habitat for Humanity, the SMART program, and church. Travels have included trips to Italy and France. There have also been many trips to visit family in Idaho, Wisconsin, Texas, Hawaii, and Massachusetts.
Mike and Sharon enjoy the seasons of the Sisters area. Winter is taken up with a certain amount of snow-related activities including snowmobiling with family. The rest of the time, they are stoking the fire. They always look forward to spring and summer for the warmer season outdoor activities like fishing, hiking, and Harley riding.
Mike and Sharon included in their building activities a clay art studio and woodworking shop. That provides year-round opportunity for them to pursue arts and crafts interests. If you live in Sisters and like to sew, you have to be into quilt making. So, Sharon also has a sewing studio where she has created many beautiful quilts for family, friends, and themselves.
<< Back