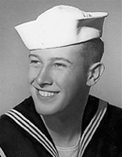 Vaughn Gilbert Sterling, Bellevue, Washington resident, passed away May 31, 2012 in Kirkland, Washington.
Vaughn was born September 19, 1927 to George and Lillian Sterling in Philadelphia, Pennsylvania and settled in Oakland, California where he graduated from Fremont High School in 1945. That same year he joined the U.S. Navy and was posted as a radioman on the USS Kerstin, which began a life-long love affair with Hawaii and the Pacific Islands.
After his discharge in 1948, Vaughn enrolled at the University of Oregon while serving in the Naval Reserves. It was there he met his future wife, Diane, and where he would earn his B.S. degree in Business Administration in 1953. Vaughn was called back to active duty in 1951, while still attending school, and was posted to Korea in 1953 and Japan a year later, where Diane and their baby daughter, Sydni, joined him. He was discharged in 1955 as a Lieutenant J.G.
Vaughn earned his engineering degree from Oregon State University in 1957 and immediately joined a small, Corvallis, Oregon engineering firm, CH2M, as its 38th employee. The international company, now CH2M Hill, employs 24,000 people. Vaughn started the firm's airport design division, and worked on projects worldwide.
Upon retirement in 1989, Vaughn and Diane moved to Mukilteo, Washington to be near their children and grandchildren. Vaughn and Diane were avid world travelers. They were particularly taken with Africa. Vaughn was a life-long stamp collector, a talented, amateur woodworker and loved sports and classic jazz piano. He is survived by his wife of 60 years, Diane Sterling; sister, Grace Larsen; daughter, Sydni Sterling Dillon; son, Kelly Sterling; son-in-law, Mike Dillon; daughter-in-law, Eileen Sterling; and five grandsons, Paul and Nick Dillon and Colin, Kyle and Quinn Sterling.
[Obituary published in the The Herald (Everett, WA) on June 24, 2012.]
<< Back