Harlan Moyer was born in Napa, CA, in 1926. He attended University of Nevada, Reno, graduating in 1952 with B.S. Degree in Civil Engineering. Harlan joined Clair A. Hill and Associates immediately following graduation in June 1952 as a Staff Engineer, working as a Party Chief on a Survey Crew. In 1954, he was named as Project Engineer of the USCE Radar Station projects in CA, NV, and OR.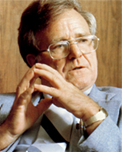 From 1957 to 1966, Harlan served as Project Manager of the Beale AFB Housing Projects for the U.S. Government. During that period, CH2M was enlisted to do the Mechanical and the Electrical Engineering. From 1960 to 1974, he served as the Project Manager of the Lake Tahoe Water Quality Control Project, coordinating the requirements of the South Tahoe PUP, Incline Village GID, and the Tahoe Truckee Sanitation Agency. Again, CH2M was associated on the South Tahoe PUD AWT Plant.
A major outgrowth of the Lake Tahoe series of projects was the Upper Occoquan Sewage Authority's (UOSA) AWT plant and collection system project in Centreville, VA, during which Harlan served as the Project Manager from 1971 through 1977. Following the merger of Clair A. Hill and Associates with CH2M, resulting in the firm CH2M HILL, he served as the Office Manager of the Redding office, succeeding Clair A. Hill, the founder of CAHA. From 1978 through 1991, he was asked to serve as President and CEO of CH2M HILL Inc. and CH2M HILL COMPANIES, LTD., succeeding Holly Cornell, one of the original founders of CH2M.
Harlan retired in 1992 and as of year-end 2001 still worked on a part time basis for CH2M HILL before passing on February 15, 2016.
<< Back