My New Job is a Blast!

by Steve Wanders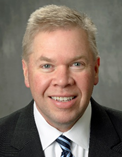 In entering retirement, Steve Wanders is returning to West Lafayette, IN, to assume a position with his alma mater, Purdue University, as director of the University's Cooperative Education program.
The program has 1,200 students in 48 disciplines across 8 of the 10 colleges in the university, and works to match them with Co-Op and Internship opportunities offered by the 500 employers engaged in the programs. Steve also gets to teach a class here and there, and participate in research on trends and effectiveness of experiential learning experience.
Steve actually started CH2M HILL's participation in Purdue's Co-Op program in 1988, when he was in Milwaukee. "The first guy we hired, Stacy Bartoletti from Green Bay, had just completed his freshman year at Purdue. Stacy was a superstar! He worked with the firm for five co-op sessions over 3 years, graduated, went on to UT-Austin for his MSCE Degree in Structures; and he's now the President and CEO of Dagenkolb Engineers in San Francisco! I tell that story to our new students all the time!"
Who knows, Steve may be directing more promising young engineers back to the offices he left.
---