CH2M's First Official Project!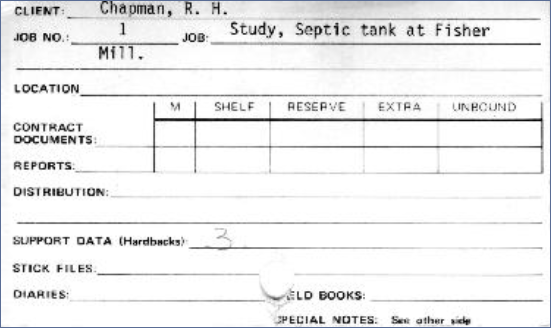 The Alumni History Team did a little digging and found some Corvallis history that sheds a little light on the client. From the Oregon Inventory of Historic Properties we found, thanks to Jim Schneider, this excerpt.
In 1947 The Western Milling Co., a feed and seed business managed by Stanley Wilt, was in operation southwest of the former Fischer Mill site. During that same year, Lester Harvey operated the Dog Face Lumber Company on the same site and utilized the millrace as a water source for a new log pond. Also in 1947, Chapman Manufacturing, maker of manufactured fiber products was turning out "Chapco" Board (a popular building product invented by Corvallis resident, Ralph Chapman) at a new plant on the former Fischer Mill site which also housed his refrigerator factory.
It certainly would appear that Ralph Chapman was indeed our first client, R.H. Chapman. When Roger Lindquist saw this he noted that the "Chapman Plant" was south of Mary's River, by the Corvallis Sand & Gravel operation. Roger especially enjoyed that the first project for the firm was a "geotech" project!
Roger also shared that he worked for a housing contractor in the late 40s and early 50s and they built a house for Mr. Chapman in about 1950 on a hilltop and 23 acres, 4 miles southwest of downtown Corvallis. As you might expect, he wanted to use as much of the particle board material for his house as possible. Jim Schneider also found that this same house is now The Chapman House B&B at 6120 SW Country Club Drive. We can only wonder if the current owners of The Chapman House are aware that Ralph Chapman was the very first client of CH2M.
View PDF Version (PDF)
<< Back