Bob Jacobs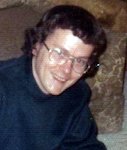 Bob was remembered fondly by many of his colleagues. Ken Bielman shared that, "Bob was the most fascinating guy I've ever met. He could come up with the most imaginative concepts of anyone I've ever met, most of them hilarious. Bob was a very capable engineer, and I'm certain that he could have been equally successful as a TV sitcom script writer." Following are some excerpts of his friends' memories.
From Ken Bielman ...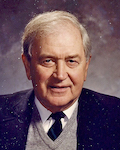 Len Schoolcraft, a traffic safety study expert from Corvallis, had obtained a rather large safety study in Kansas and had hired Bob to help him with the project. They didn't have an office there; Bob just worked out of his home. Unexpectedly, Bob's house was no longer available; so without a place to work, Len asked Bob to move to the Denver office to finish the study. Thus, without my knowledge or input, we acquired a transportation engineer, adding another discipline to our service capability.
Bob is a small guy. He's very sharp and quick mentally, with a clever sense of humor and a penchant for pranks. He and "dip" (Bill Sinclair) made a good pair. dip nicknamed him "The Fox" because he was cunning with the ladies.
At that time, there were not many stockholders in the firm; I was one of them. Annually, the firm held a stockholders' meeting, and invited all of us to Corvallis no matter where our home bases were. So Bob and dip organized "Non-Stockholders' Meetings" in Denver, and all but me were invited. They were held at a local bar with a minimal agenda and plenty of extra olives to go with their martinis.
Bob had a theory about the Vietnam War. He maintained that the U.S. military lacked imagination in planning its strategy. He said that the U.S. spent millions of dollars bombing Vietnam with little success. For the same expenditure, the U.S. military could have loaded their bombers with bowling balls and dropped them all over the country to a depth of 2 or 3 feet. He went on to explain that the natural tendency on seeing a bowling ball is to pick it up. If the military had fitted the balls with Chinese finger stalls, the whole country would be immobilized; and the war would have been over in a matter of days.
from Ken .. this isn't necessarily one of Bob's jokes, but it does describe his capability to turn a casual statement into a somewhat humorous event.
Bob and dip Double Date Kathy and Marylyn Kavanaugh were unmarried sisters who worked as secretaries for Julie (Ken's wife) at the General Adjustment Bureau's National Education Center. They were very close friends of Julie's as well as being neighbors. When Julie moved out of her basement apartment, they moved in. Julie had given them a key to our house in the event of an emergency.
At one of our parties, Bob and dip, both single guys, met the Kavanaugh sisters and unbeknownst to us agreed to meet for dinner a week or so later. During dinner, Kathy bragged about how fast she could type. Bob listened a while then said that he too had great typing skills. Each of their boasts gradually became a little more vocal; with tempers rising, Bob finally challenged Kathy to a typing contest.
The night of their date, Julie and I had crashed rather early and were sound asleep when we were awakened by loud voices and strange noises downstairs. "What are our resident spirits up to now?" was my first thought. Then, when my thinking processes sharpened a bit, I realized somebody was downstairs. I put on a robe and traipsed down the stairs and into the library where the noise was coming from. Bob was typing furiously on Julie's typewriter with dip urging him on, and the girls shouting disparaging comments trying to confuse him. "What's going on?" I yelled at dip. He explained between blurts of "GO, Bob" that a typing contest was going on, and that Bob was the first contestant. Then he added that, "Julie's typewriter was the only one we had access to." By then, Julie had put on her robe and joined the throng. I noted that the four of them had invaded my liquor cabinet and each had a drink in front of them---something, it appeared, that they sure did not need more of. Except for dip, they hardly noticed we were there. After watching awhile, Julie and I went back to bed. As I left I said, "Just be sure you lock the door when you leave." I doubt that any of them heard me. Bob boasted later that he won!
from Ken again ...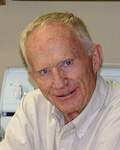 Later in 1974, when the Quincy Dam was completed, dip who had been Resident Engineer for that structure as well, suggested to the mayor of Aurora that there should be some sort of official dedication of the dam by city officials. dip had the unique capability of convincing almost anyone to do almost anything, and his suggestion appealed to the lady mayor. She asked, "What would you propose we do?" "We should hold a 'Topping Off Ceremony,'" he added. "I don't know what that is," she said. Then dip explained that it's like dignitaries putting the last brick in a brick building. Only in this case, I'll have the contractor dig a small hole in the top of the dam, and you and other city officials with shovels can each throw a shovelful of dirt into the hole." "I like that idea," she said excitedly. "Go ahead with that. I'll see to it that we'll have a good turnout with media coverage." A date and time were set, and dip got the process started.
On the agreed-upon day, the contractor had a backhoe dig the little hole. At the appointed hour, the mayor showed up with her entourage of councilmen and support staff, with shiny new shovels. As the mayor promised, TV and newspaper people showed up as well. With her bullhorn in hand, the mayor thanked people for attending, and explained that the purpose of the ceremony was to dedicate this new and vital element of the city's water system. Then she introduced dip as the Resident Engineer for the project. As she made the introduction, dip walked by her, took off his boots, and threw them into the hole. "Why did you do that, Mr. Sinclair?" she asked. dip replied, "It's an old Indian tradition. It drives away evil spirits, and protects the dam." The mayor said with sincerity, "I support you on that," and pulled off her high-heeled shoes and tossed them into the hole. That got the attention of the audience; and the councilmen and several other people took off their shoes and followed suit, filling the hole. Then the backhoe operator dug another small hole, took off his boots, and tossed them in as did a few more who got carried away with the enthusiasm. Then normalcy returned, and the mayor and councilmen did their thing with the shovels and the ceremony was over. The whole thing, with pictures, was part of the evening news coverage on TV; and the local papers had articles about the "Topping Off Ceremony."
The next day, Bob Jacobs asked dip, "Did you just make that up? The Indians don't wear boots, and they don't build dams." dip's answer was just a sly grin.
I, Ken, never learned of this happening until I was writing this document. Bob explained that he and dip were fearful that if more than the two of them knew that this whole thing was a prank, CH2M HILL might be blacklisted with the City of Aurora; and they might lose their jobs. So, Bob went on, dip picked a date for the ceremony when he knew I'd be out of town.
from Ken ... take the foregoing with a grain of salt. Bob told me this story just about three months ago (circa 2012). I had never heard anything about this before, but I accepted it just as Bob told it. However, I checked with the Aurora Water Dept., the Aurora History Museum, and the Denver Post---no record could be found. I concluded that here again is a prime example of Bob's fertile imagination; and now, knowing of his recent death, this was probably his last joke on me. I will include the story in my "memoirs" because it's so funny, but with the caveat that no confirmation could be found.
from Les Wierson ...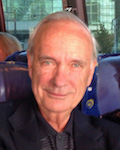 Bob Jacobs was always Bobby. Gus Pantazi called him the FOX, and it really matched Bobby. He was truly a live wire, spark, and great team member. Bobby with Otto Vydra, Nofal Kasrawi, Dick Ivey, Hossam Toulan, and others were pioneers for CH2M HILL International.
The Dammam office was the first long-term overseas office. On the Dammam project, you would get paid leave every 6 months to London or equal. Bobby discovered that or equal would take him to Bangkok, Thailand. As I remember, he made a number of trips there.
He was also a leader in weekend recreation planning and got the company to ship a surf sail board to use at Half Moon Bay in Saudi. Bobby was the first to try it out. Strong offshore winds carried him out into the Gulf until he was just a speck on the horizon. Some hours later, he came paddling back.
I will miss Bob and will cherish all the good memories.
from Jim McKibben ...
Bob, or the "Fox" as we called him in Denver, and I joined CH2M HILL within a year of each other at the Denver office in 1972.
Fox was the instigator of many of our unofficial office events. The two that I remember the best were the Non-Key Employee Meetings and the Anaconda Routine.
The Non-Key Employee Meetings were started by the Fox and dip (Bill Sinclair) and were held many Friday nights (and a few other nights on occasions) at a bar across the street from the office. The key qualification that Fox established was that only non-Key Employees could attend. How we survived these meeting is a mystery to me. Any party with the Fox and dip could be hazardous to one's health. The interesting fact about these meetings — all of those who attended these meeting became Key Employees.
The Anaconda Routine was another of the unofficial events that Fox started. An all-you-can-eat pizza joint opened across the street from the office. The Fox would call for the Anaconda Routine, and we would go to lunch at the pizza joint. We would stuff ourselves with pizza. The objective was to eat enough pizza so that we would not need to eat for a week. The Fox held the record for the highest number of pieces that were eaten. I never got over how many pieces of pizza he could eat and he was the smallest member of the office.
Bob is at center stage in most of my memories of working in Denver, and I will miss him. He was a good friend and truly a very unique character.
<< Back