2013 Retiree Reunion Highlights - Retirement Sessions
The committee also planned retirement-specific sessions to review health insurance questions and financial concerns and to discuss the overall well-being of retirees.
Retiree Benefits Session
Erik Ammidown updated the attendees on the firm's current emeritus and retiree benefits including health insurance, 401(k) rollover options (and rules), and more. Don Marske also presented alternatives to the firm's secondary health insurance plan (CIGNA) for Medicare-eligible retirees. Read More... (PDF) The presentations confirmed the very fluid nature and complexity of our current health care system.
Financial Planning Session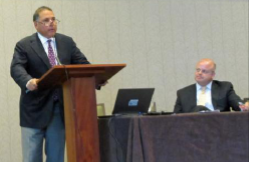 This workshop session addressed commonly asked questions about "How to Build a Bulletproof Financial Plan." We learned things such as: What's the right investment strategy for me? Can I "front load" my retirement expenses during early retirement to assume less when I'm older during later retirement? The session was presented by Mark Brown of Brown & Tedstrom, Inc., Denver. Mark has been working with several CH2M HILL retirees since 1984 and is very familiar with the firm and the evolution of its compensation plans.
Making the Most of Retirement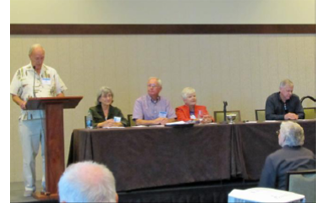 Les Wierson moderated a panel of Myrna Wierson, Mike and Sharon Anglea, and Rick Luebbers to share their experiences in retirement. The audience jumped in with their stories, and we learned that our colleagues and their spouses are heavily involved in a wide variety of activities including a heavy dose of volunteerism.
<< Back