2013 Retiree Reunion Highlights - Technical Presentations
The Reunion planning committee organized technical sessions, inviting 15 current CH2M HILL project leaders to speak about assorted projects and innovations across the firm's markets.
On Tuesday evening, we had dinner at the DEN campus and, were entertained by presentations from Terry Ruhl on our management of the Mumbai Airport expansion, Ellen Sandburg on the growing mission of the CH2M HILL Foundation, and Jacque Hinman on the current status of our International Operations and projects. Included in Jacque's presentation was a briefing on the work CH2M HILL completed for the London Olympics.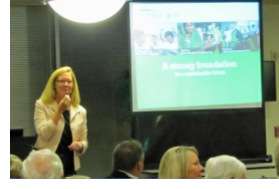 On Wednesday afternoon, Reunion attendees enjoyed a series of technical presentations on many of the most challenging projects being managed by CH2M HILL. Several of these projects have been recognized by our CEO as being the best projects in the firm. The attached table summarizes the speakers and topics for these presentations. The Retreat committee thanks the operating divisions of the firm for the much appreciated presentations. Most of the PowerPoint presentations can be viewed as indicated on the following table.
<< Back