Living by the little yellow book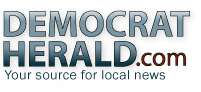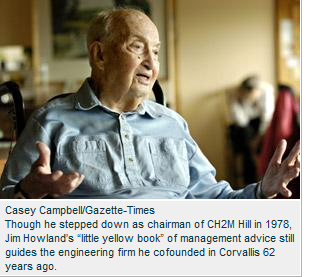 Founder's collection of management tips keeps CH2M HILL in touch with its roots
By BENNETT HALL
Corvallis Gazette-Times
In 1978, when Jim Howland stepped down as chairman of CH2M HILL after 30 years, he left the firm something to remember him by.
It was a small book - a pamphlet, really - a dozen 4-by-6-inch pages of homespun business maxims interspersed with a handful of wry cartoons.
The idea was to communicate the basic principles the firm was built on: Do quality work. Keep faith with the client. Maintain high ethical standards. Hire good people and reward their efforts.
Now, 30 years later, the business Howland launched with three fellow Oregon State University engineering graduates has mushroomed into one of the largest design firms in the world, with more than 24,000 employees, $5.1 billion in annual revenues and a long list of prestigious projects that includes managing the Panama Canal expansion, coordinating facilities design for the 2012 London Olympics, and engineering the world's greenest city in the desert of Abu Dhabi.
The little book with the yellow cover is still required reading at CH2M HILL. And today, with all the founders but Howland deceased, it provides a living link with the simple, old-fashioned values that helped the company thrive in a rapidly changing world.
"Every employee gets one," said Howland, 95, in a recent interview at his Corvallis home.
That tradition was easy to maintain through the early years of gradual growth, but the pace has picked up. Last fall, when CH2M HILL acquired the global oilfield services firm Veco Corp., it meant shipping close to 4,000 copies to job sites all over the world.
"Everyone got a little book," Howland said. "If they were in Arabia and that was the main language, they got one in Arabic."
Laying a firm foundation
It's a far cry from 1946, when Howland and his OSU classmates Holly Cornell and Burke Hayes completed their World War II military service and teamed up with their former professor Fred Merryfield to open a modest engineering consultancy. For $30 a month they rented a tiny office above a hardware store in downtown Corvallis and set about finding work in Oregon's booming postwar economy, mostly designing municipal sewer and water systems.
"We really tried to do the little projects with as much care and ingenuity as the big ones," Howland said. "Because all of the little projects led to the big ones."
The firm became CH2M HILL in 1971 after a merger with Clair A. Hill & Associates, a California company founded by another former OSU student.
In 1980, with a staff approaching 2,000 working on projects all over the world, CH2M HILL addressed some of its growing pains by moving its corporate offices to Denver.
"By the time people here got going, people on the East Coast were going to get lunch, and by the time they got back, we were going to lunch," Howland explained. "That one-hour time change almost doubled the amount of time people on both sides (of the country) were in the office."
The company maintains a regional office in Corvallis, which today employs about 400.
Looking back, Howland said, he and his partners built their business by working hard, exceeding clients' expectations and, perhaps most important, hiring and cultivating the best people they could find.
"I think we were able to hire good people, and they attracted other good people," Howland said. "And when I say good, I mean good surveyors or engineers or whatever, but I also mean good quality people - honest as they come."
Enduring principles
Current chairman and CEO Ralph Peterson thinks CH2M's founders were onto something with that philosophy, and he offers himself as proof.
Peterson joined the firm as an intern in 1965, when he was still a civil engineering student at OSU. He worked closely with all four original partners, he said, and one of the most enduring lessons they taught him was the importance of giving young employees plenty of coaching and opportunities to advance.
"We've tried to continue that tradition," Peterson said. "Put talented people in challenging roles, and they will surprise you every time."
Three or four times a year, CH2M HILL brings 40 or so of its most promising employees to the firm's Colorado headquarters for a four-day leadership course taught by top management. Succession management is a priority for the board.
Several years ago the firm became employee-owned. Instead of paying out much of its profits in the form of bonuses, the firm can use that money to finance growth while rewarding employees with rising share prices. That structure also shields CH2M HILL from pressure from outside investors.
"There's no street expectations for our quarterly earnings, so if we miss our target by 3 or 4 cents we don't have to fall on our swords," Peterson said. "We can afford to be in it for the long haul."
At 63, Peterson is the third generation of leadership at CH2M HILL, moving into the chief executive role in 1991. His tenure has been marked by rapid growth, but he credits the founders' vision with giving the firm the foundation to succeed.
To a remarkable extent, that vision is embodied in Jim Howland's Little Yellow Book.
"I think it plays both a substantive and a symbolic role that's very large," Peterson said.
Both those roles were put to the test last year when CH2M HILL acquired Veco, a company tainted by scandal when two top executives pleaded guilty to bribery and other charges in an Alaska corruption probe. Only after satisfying itself that Veco's line workers were not involved did CH2M HILL agree to buy the company. The acquisition was followed by intensive training in the firm's ethical policies - and each new employee got a copy of the Little Yellow Book.
The book has become a kind of corporate calling card.
"The biggest and most pleasant surprise to me is the extent to which our clients like the Little Yellow Book," Peterson said. "They just love it."
Scott Ashford, head of the School of Civil and Construction Engineering at OSU, is a fan. He worked for CH2M HILL for several years starting in 1986, and Howland gave him a copy.
"I actually have that on my desk," Ashford said. "There are things in that book that transcend business, and I use that book on a day-to-day basis."
Coming full circle
Though he stepped down as chairman of CH2M HILL in 1978, Jim Howland remained active in the firm long afterwards, working regularly in the Corvallis office until health problems in the last few years began to slow him down.
He is modest about the Little Yellow Book, giving credit for much of the contents to other people. One oft-quoted pronouncement about the "fine line between a genius and a nut," for instance, originated with his college rooommate.
He is pleased but more than a little amazed to find that the little Corvallis company he started 62 years ago with Holly Cornell, Burke Hayes and Fred Merryfield has become a powerhouse that regularly takes on some of the largest and most high-profile engineering projects in the world.
He takes pride in the achievements of the firm that bears their names, and he would like to think that CH2M HILL's enduring success has grown out of the founders' fundamental values:
Do quality work.
Keep faith with the client.
Maintain high ethical standards.
Hire good people and reward their efforts.
"Apparently," Howland said, "we have a reputation for good work and fair dealing."
Bennett Hall can be reached at 758-9529 or bennett.hall@lee.net.